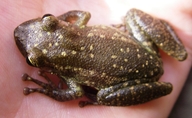 &copy 2010 Miss. Katy A. Upton (1 of 35)

Authors: Albertina P. Lima, William E. Magnusson, Marcelo Menin, Luciana K. Erdtmann, Domingos J. Rodrigues, Claudia Keller, Walter Hödl

Distribuição na RFAD: É comum em áreas abertas, bordas e clareiras em toda a reserva.

Distribuição geral: Bacia Amazônica do Brasil, Peru, Equador e Colômbia, e também na Guiana, Suriname e Guiana Francesa, leste do Panamá e Trinidad e Tobago.

Descrição: Machos 31-37 mm, fêmeas 40-42 mm. Os machos têm o dorso amarelo ou creme e o ventre amarelo a esbranquiçado. As fêmeas têm o dorso marrom a cinza e o ventre creme. Ambos os sexos têm manchas longitudinais marrom-escuras no dorso e manchas amarelas a alaranjadas sobre fundo escuro na região inguinal e na coxa. A íris é bronze a prateada.

Espécie semelhante: Scinax boesemani difere de S. ruber por não possuir manchas amarelas ou alaranjadas na região inguinal e nas coxas e por possuir coloração dorsal marrom.

História natural: Arborícolas e noturnos. São freqüentemente observados em áreas antropizadas. Reproduzem-se durante todo o ano, mas com maior intensidade durante a estação chuvosa (novembro a maio). Os machos vocalizam sobre galhos que ficam nas margens ou acima da água. A desova é composta por aproximadamente 600 ovos, que ficam aderidos à vegetação ou à margem de poças temporárias, onde os girinos se desenvolvem até completar a metamorfose. Os girinos são transparentes e ficam dispersos na coluna da água.



---

Feedback or comments about this page.

Citation: AmphibiaWeb. 2023. <https://amphibiaweb.org> University of California, Berkeley, CA, USA. Accessed 30 Sep 2023.

AmphibiaWeb's policy on data use.