Ptychadena mascareniensis
Mascarene ridged frog
family: Ptychadenidae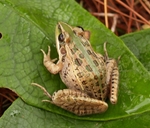 &copy 2010 Maciej Pabijan (1 of 32)

Conservation Status (definitions)
IUCN (Red List) Status
Least Concern (LC)
CITES
No CITES Listing

Other International Status
None
National Status
None
Regional Status
None
Range Description
This very widely but patchily distributed species occurs from Mauritania and Senegal, west to South Sudan and Ethiopia; from southern Tanzania south to South Africa, Botswana, Namibia and Angola. In West Africa it occurs mainly in the forest zone, but in most of the rest of the continent it is more closely tied to the humid savannah zone. There appear not to be published records from Benin, Togo, Chad, Burundi, Uganda and Congo, though it presumably occurs in these countries and they are included in the species' distribution on the map. Part of its range in East Africa and records going up the Nile River to Egypt have been attributed to Ptychadena nilotica and have therefore been removed from its distribution map. Earlier reports from Eritrea have proved to be incorrect.

It is widely distributed through the whole of Madagascar and occurs on Mafia Island (Tanzania). Additional subpopulations are known from the Seychelles and on the Mascarene Islands. On the Seychelles, where it is probably introduced (Vences et al. 2004), it has the widest distribution of all amphibian species known from those islands, being recorded from: Cerf, Curieuse, Félicité, Fregate, Grand Souer, La Digue, Mahé, Praslin, and Silhouette. Populations on the Mascarene Islands (Mauritius and Réunion) are introduced.

It has a very wide altitudinal range occurring from sea level to over 2,000 m asl.
Habitat and Ecology
In Africa it lives in agricultural areas, rice fields, secondary vegetation with tall herbaceous vegetation and marshy areas, and is often found near large lakes, rivers and other wetland habitats (including irrigation canals). It does not normally live in forest (although it has been recorded in a gallery forest of the Sahel savanna; Padial and De la Riva 2004), but spreads rapidly along roads in forested areas. It breeds in puddles, ditches and ruts, and in West Africa it is found mainly in rice fields and savanna. In Madagascar and the Seychelles, it lives in extremely varied habitats, including rainforest (marginally), dry forest, fields, savannas, grassland and urban areas. It breeds in all still and slow-flowing water types.
Population
It is patchily distributed in many parts of Africa, but is often hugely abundant where it does occur. It is a very abundant species on Madagascar and the Seychelles. The population trend is unknown.
Population Trend
unknown
Major Threats
It is a very adaptable species that is not facing any significant threats, except in localized situations.
Conservation Actions
Conservation Actions
It occurs in many protected areas. 

Research Needed
Continued research on the taxonomy of this species complex is needed to clarify its identity.
Red List Status
Least Concern (LC)
Rationale
Listed as Least Concern in view of its very wide distribution, its tolerance of a broad range of habitats and its presumed large population.
Taxonomic Notes
This very widely distributed species is a complex of several species. A phylogeographic study by Vences et al. (2004) suggests that the populations of this species on the Seychelles and the Mascarene islands were introduced from Madagascar. However, the animals on Madagascar appear to have arrived on that island prior to its colonization by humans. Pickersgill (2007) treated Ptychadena hylaea as a separate species, but here we retain it within P. mascareniensis pending a more comprehensive resolution of this species complex. Records from Rwanda, Uganda, Kenya and Egypt were assigned to P. nilotica by Dehling and Sinsch (2013).
Citation
IUCN SSC Amphibian Specialist Group 2016. Ptychadena mascareniensis. The IUCN Red List of Threatened Species 2016: e.T76317565A79825430. http://dx.doi.org/10.2305/IUCN.UK.2016-1.RLTS.T76317565A79825430.en .Downloaded on 21 February 2019
IUCN Terms of Use