Pseudopaludicola ternetzi

family: Leptodactylidae
Taxonomic Notes: Pansonato et al. (Zootaxa 3620:147-162) raise questions concerning the status of this species, which requires reconsideration following revalidation of P. ameghini, which has had a confusing taxonomic history involving P. ternetzi.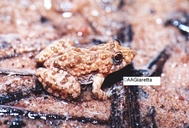 &copy 2004 Ariovaldo Giaretta (1 of 2)
| | |
| --- | --- |
| | hear call (3262.6K WAV file) |
Range Description
This species occurs widely in the Cerrado biome of south-central Brazil, and it is recorded from the States of Bahia, Goiás, Tocantins and Minas Gerais. It is found at 400-1,200m asl.
Habitat and Ecology
It lives in Cerrado savannah, occurring in open areas, and breeding in somewhat wet, marshy areas, and temporary pools. It adapts well to anthropogenic disturbance.
Population
It is a common species.
Population Trend
stable
Major Threats
Local populations are probably impacted by the spread of intensive, commercial agriculture, as well as by fire and dam construction.
Conservation Actions
It occurs in several protected areas.
Red List Status
Least Concern (LC)
Rationale
Listed as Least Concern in view of its wide distribution, tolerance of a degree of habitat modification, presumed large population, and because it is unlikely to be declining fast enough to qualify for listing in a more threatened category.
Citation
Rogério Bastos, Ulisses Caramaschi 2004. Pseudopaludicola ternetzi. The IUCN Red List of Threatened Species 2004: e.T57321A11620132. http://dx.doi.org/10.2305/IUCN.UK.2004.RLTS.T57321A11620132.en .Downloaded on 21 February 2019
IUCN Terms of Use