Platyplectrum ornatum
Ornate Burrowing Frog
family: Myobatrachidae
subfamily: Limnodynastinae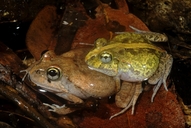 &copy 2010 Eric Vanderduys (1 of 23)
| | |
| --- | --- |
| | hear call (779.4K MP3 file) |
| | hear call (5727.2K WAV file) |
Distribution and Habitat


Country distribution from AmphibiaWeb's database: Australia

Along the northern and eastern sections of Australia. From the Kimberley zone in Western Australia, across northern Northern Territory, northern and south-eastern Queensland and into the central coast of New South Wales. The extent of occurrence of the species is approximately 2244000 km2.

Life History, Abundance, Activity, and Special Behaviors
Found in many habitats that are subject to seasonal inundation. Often found in dry sandy watercourses some distance from permanent water. They burrow in the daytime and may spend the dry season in a dormant state well beneath the surface. Breeds in the wet season only after heavy rain. Males call whilst floating in the water, which may be only a small puddle. Females lay about 1000 eggs in a foam nest that collapses after a few hours to form a floating layer up to 7cm across. Females may breed more than once each season.

Trends and Threats
No known declines and large extent of occurrence.

Threats
None known.

Conservation Measures
None in place.

References


Barker, J., Grigg, G. C., and Tyler, M. J. (1995). A Field Guide to Australian Frogs. Surrey Beatty and Sons, New South Wales.

Margules, C.R., Davies, K.F., Meyers, J.A., and Milkovits, G.A. (1995). ''The responses of some selected arthropods and the frog Crinia signifera to habitat fragmentation.'' Conserving Biodiversity: Threats and Solutions. Surrey Beatty and Sons, Sydney, 94-103.
---

Written by J-M Hero et al. (m.hero AT mailbox.gu.edu.au), Griffith University
First submitted 2002-04-05
Edited by Ambika Sopory (2008-09-18)

Species Account Citation: AmphibiaWeb 2008 Platyplectrum ornatum: Ornate Burrowing Frog <http://amphibiaweb.org/species/3509> University of California, Berkeley, CA, USA. Accessed Aug 11, 2020.
---

Feedback or comments about this page.

Citation: AmphibiaWeb. 2020. <http://amphibiaweb.org> University of California, Berkeley, CA, USA. Accessed 11 Aug 2020.

AmphibiaWeb's policy on data use.