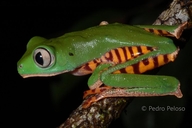 &copy 2010 Pedro L. V. Peloso (1 of 43)

Authors: Albertina P. Lima, William E. Magnusson, Marcelo Menin, Luciana K. Erdtmann, Domingos J. Rodrigues, Claudia Keller, Walter Hödl

Distribuição na RFAD: Ocorre em toda reserva, sendo comum em poças de isoladas de igarapés.

Distribuição geral: Toda a Bacia Amazônica.

Descrição: Machos 44-54 mm, fêmeas 60 mm. O dorso é verde uniforme e o ventre branco ou alaranjado. Os lados do corpo e a região interna dos braços, pernas, mãos e pés são laranja com barras verticais negras. A íris é prateada ou acinzentada.

Espécies semelhantes: A coloração laranja e preta da região lateral do corpo a distingue das outras espécies de Phyllomedusa da RFAD.

História natural: Arborícolas e noturnos. Os machos vocalizam sobre galhos e folhas de árvores ou arbustos, principalmente entre dezembro e maio. A desova é composta por aproximadamente 70 ovos não pigmentados, e é depositada em uma massa gelatinosa no interior de folhas dobradas de galhos pendentes sobre poças temporárias. Quando eclodem, os girinos caem na água, onde se desenvolvem até a metamorfose.



---

Feedback or comments about this page.

Citation: AmphibiaWeb. 2023. <https://amphibiaweb.org> University of California, Berkeley, CA, USA. Accessed 31 May 2023.

AmphibiaWeb's policy on data use.