Phyllomedusa bicolor
Waxy-Monkey Treefrog
family: Hylidae
subfamily: Phyllomedusinae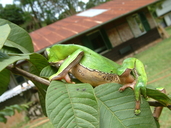 &copy 2005 Jasper van Dalen (1 of 48)

Conservation Status (definitions)
IUCN (Red List) Status
Least Concern (LC)
CITES
No CITES Listing

Other International Status
None
National Status
None
Regional Status
None
Range Description
This species is found in the Amazon Basin in Venezuela (Amazonas and Bolívar states), Brazil, Colombia, Peru, Bolivia, and the Guianas. It also occurs in the Cerrado habitat of Manhao state, Brazil. It has been recorded from 0-800m asl.
Habitat and Ecology
This is a nocturnal tree frog. It has been found calling from the limbs of trees in tropical rainforest at heights of more than 2m above the water in a forest pond (Duellman 1997). Gorzula and Señaris (1999) reported a leaf-nest found about 2m above a forest pool. Tadpoles then develop in temporary waterbodies. They are also found in gallery forest in Cerrado.
Population
It is common throughout its range.
Population Trend
stable
Major Threats
There are very few threats through its wide range, though it is probably impacted locally by very severe habitat loss, such as clear-cutting. It might benefit from road cuts through forest where individuals congregate to reproduce. There is currently an increased interest in the toxic compounds in the skin of this frog (which is used for hunting practices for several tribes of Amazonia). This might increase harvesting effort in the future, but at the moment, such utilisation is not considered to constitute a threat to the species. It is sometimes found in the international pet trade but at levels that do not currently constitute a major threat.
Conservation Actions
The species' distribution encompasses several protected areas.
Red List Status
Least Concern (LC)
Rationale
Listed as Least Concern in view of its wide distribution, presumed large population, and because it is unlikely to be declining to qualify for listing in a more threatened category.
Citation
Claudia Azevedo-Ramos, Enrique La Marca 2010. Phyllomedusa bicolor. The IUCN Red List of Threatened Species 2010: e.T55841A11378972. http://dx.doi.org/10.2305/IUCN.UK.2010-2.RLTS.T55841A11378972.en .Downloaded on 20 January 2019
IUCN Terms of Use