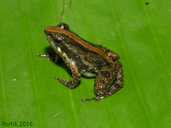 &copy 2016 Daniel Portik (1 of 6)
| | |
| --- | --- |
| | hear call (597.3K MP3 file) |
| | hear call (6573.9K WAV file) |
Range Description
This species ranges very widely in West Africa in both the forest and the savanna zones from Senegal, east to northern Cameroon. It has not been recorded from Guinea-Bissau and Niger, but it almost certainly occurs in these countries.
Habitat and Ecology
It lives in wooded and open savanna, secondary forest, heavily degraded former forest (farm bush), agricultural areas, and inselbergs in rainforest. It avoids closed primary rainforest. It breeds in temporary ponds, puddles, and roadside ditches.
Population
It is an extremely common species.
Population Trend
stable
Major Threats
It is a very adaptable species that is not facing any significant threats.
Conservation Actions
It occurs in many protected areas.
Red List Status
Least Concern (LC)
Rationale
Listed as Least Concern in view of its wide distribution, its presumed large population, and because it is unlikely to be declining to qualify for listing in a more threatened category.
Taxonomic Notes
It was recently determined that Phrynobatrachus accraensis is a senior synonym of P. latifrons (see Frost 2009).
Citation
Rödel, M.-O. & Schiøtz, A. 2004. Phrynobatrachus latifrons. The IUCN Red List of Threatened Species 2004: e.T165364A136578520. http://dx.doi.org/10.2305/IUCN.UK.2004.RLTS.T165364A6006724.en .Downloaded on 19 February 2019
IUCN Terms of Use