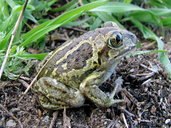 &copy 2006 Horia Bogdan (1 of 98)

Conservation Status (definitions)
IUCN Red List Status Account
Least Concern (LC)
CITES
No CITES Listing

National Status
Red Data Books of Estonia and Moldavia.
Regional Status
Red Data Books of Krasnodar Region and the Middle Urals (Perm and Sverdlovsk provinces, Russia). Rare or Endangered on many areas on the range margin. Pelobates fuscus insubricus is an asterisked taxon in the Habitat Directive and is included in the Italian Red List; Appendix 2, Bern Convention 2002 (Annex 2)
Access Conservation Needs Assessment Report .