Osteocephalus buckleyi (Boulenger, 1882)

family: Hylidae
subfamily: Hylinae
genus: Osteocephalus


Taxonomic Notes: Ron, S.R., P. Venegas, E.Toral, M.Read, D.A. Ortiz, A.L. Manzano 2012. Zookeys (229):1-52.: Synonomized Osteocephalus vilmae with O. buckleyi: Jungfer, Karl-Heinz; Faivovich, Julian; Padial, Jose M.; et al. 2013. Systematics of spiny-backed treefrogs (Hylidae: Osteocephalus): an Amazonian puzzle. Zoologica Scripta 42(4): 351-380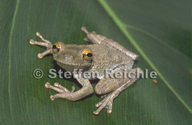 &copy 2003 Steffen Reichle (1 of 7)

Authors: Albertina P. Lima, William E. Magnusson, Marcelo Menin, Luciana K. Erdtmann, Domingos J. Rodrigues, Claudia Keller, Walter Hödl

Distribuição na RFAD: Ocorre em toda a reser va, sendo facilmente encontrada em arbustos e árvores, na proximidade dos igarapés Acará, Bolívia, Ipiranga e Tinga.

Distribuição geral: Amazônia do Brasil, Bolívia, Peru, Equador, Colômbia e Guiana, Suriname e Guiana Francesa. Descrição: Machos 42-50 mm, fêmeas 63-69 mm. A coloração dorsal é formada por manchas marrons sobre fundo verde. Tubérculos estão distribuídos por toda a parte superior do corpo, dando à pele um aspecto muito granuloso. Possuem uma franja de pele na parte externa dos pés. A parte interna da coxa e a região inguinal são de cor azulvioleta. A íris é dourada.

Espécie semelhante: Não existe espécie semelhante na RFAD.

História natural: Arborícolas e noturnos. Alimentam-se de gafanhotos, mariposas, aranhas e besouros. Vivem às margens de igarapés de floresta de terra-firme. À noite podem ser encontrados sobre galhos ou troncos de árvores que se projetam sobre igarapés ou suas margens; de dia são encontrados dormindo junto a raízes, pedras ou troncos caídos sobre a água. Os machos vocalizam sobre arbustos, principalmente na proximidade de quedas d'água ou obstáculos na água, como galhos ou troncos, que produzem ruídos nos igarapés. Reproduzem-se principalmente na época seca, entre junho e novembro. As fêmeas depositam ao redor de 1000 ovos nas margens de igarapés. Os girinos vivem nos bancos de liteira dentro do igarapé e são tóxicos para os peixes. A parte superior do dorso dos girinos é preto-azulada, o ventre e as nadadeiras são transparentes.



---

Feedback or comments about this page.

Citation: AmphibiaWeb. 2023. <https://amphibiaweb.org> University of California, Berkeley, CA, USA. Accessed 8 Jun 2023.

AmphibiaWeb's policy on data use.