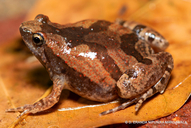 &copy 2019 Dayupathi Eranda Nipunika Mandawala (1 of 13)

Description
This species has a small head and body. M. ornata has no teeth and the tympanum cannot be seen. The tips of the fingers are swollen and the webbing is poorly developed. The skin on the back of this species is smooth but contains random granules. The mean snout to vent length for males is 24 mm (range 22-26) and for females 28 mm (range 24-32). The males lack nuptial pads and have dark patches on their throats. A groove extends from the back of the eye to the arm.

Distribution and Habitat


Country distribution from AmphibiaWeb's database: Bangladesh, Bhutan, India, Myanmar, Nepal, Pakistan, Sri Lanka

M. ornata can be found in Taiwan, south eastern China, southeast Asia, India, as well as Japan. Within Japan, it is specifically found on all the islands south of Kikaigashima and Amamioshima Islands. They are found living on the ground among the leaves and grasses. This species is generally found in either lowlands or mountainous regions.

Comments
Karotype: This species has diploid chromosomes, 6 pairs of both small and large ones, making a total of 24.Call: Each note lasts between .2-.4 sec and has 6-9 pulses.

References


Maeda, N. and Matsui, M. (1990). Frogs and Toads of Japan, 2nd edition. Bun-Ichi Sogo Shuppan Co., Ltd., Tokyo, Japan.
---

Originally submitted by: Ambika Sopory (first posted 2000-07-11)
Edited by: Vance T. Vredenburg, JG (2002-05-28)

Species Account Citation: AmphibiaWeb 2002 Microhyla ornata: Ornate Narrow-Mouthed Toad <https://amphibiaweb.org/species/2180> University of California, Berkeley, CA, USA. Accessed Mar 22, 2023.
---

Feedback or comments about this page.

Citation: AmphibiaWeb. 2023. <https://amphibiaweb.org> University of California, Berkeley, CA, USA. Accessed 22 Mar 2023.

AmphibiaWeb's policy on data use.