Litoria fallax
Eastern Dwarf Tree Frog
family: Hylidae
subfamily: Pelodryadinae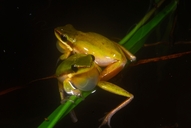 &copy 2010 Eric Vanderduys (1 of 15)
| | |
| --- | --- |
| | hear call (704.2K MP3 file) |
| | hear call (5174.4K WAV file) |
Distribution and Habitat


Country distribution from AmphibiaWeb's database: Australia. Introduced: Guam.

Coast and adjacent areas from northern Queensland to southern New South Wales. The extent of occurrence of the species is approximately 297700 km2

Life History, Abundance, Activity, and Special Behaviors
Usually found in vegetation bordering swamps, streams, lagoons, ponds and farm dams often in large numbers. In the day it shelters in the leaf-axils of pandanus and other plants away from the water. Breeding begins with the summer rains. Small clumps of eggs are laid attached to submerged vegetation.

Trends and Threats
No known declines and extent of occurrence > 20,000km2.

Threats
Loss of habitat from human development and habitat degradation.

Conservation Measures
Protected where the species occurs in National Parks, e.g. Fraser Island.

References


Barker, J., Grigg, G. C., and Tyler, M. J. (1995). A Field Guide to Australian Frogs. Surrey Beatty and Sons, New South Wales.

Cogger, H.G. (1992). Reptiles and Amphibians of Australia. Reed Books, New South Wales.
---

Written by J-M Hero et al. (m.hero AT mailbox.gu.edu.au), Griffith University
First submitted 2002-04-05
Edited by Ambika Sopory (2008-09-16)

Species Account Citation: AmphibiaWeb 2008 Litoria fallax: Eastern Dwarf Tree Frog <http://amphibiaweb.org/species/1249> University of California, Berkeley, CA, USA. Accessed Oct 31, 2020.
---

Feedback or comments about this page.

Citation: AmphibiaWeb. 2020. <http://amphibiaweb.org> University of California, Berkeley, CA, USA. Accessed 31 Oct 2020.

AmphibiaWeb's policy on data use.