Litoria ewingii
Whistling Tree Frog, Ewing's Tree Frog, Brown Tree Frog, Southern Brown Tree Frog
family: Hylidae
subfamily: Pelodryadinae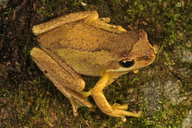 &copy 2012 Eric Vanderduys (1 of 12)
| | |
| --- | --- |
| | hear call (60.7K WAV file) |
Range Description
This Australian species occurs from the southeastern corner of South Australia, east along the south coast of Victoria and into far southeastern New South Wales. Isolated populations occur along the coast and ranges of central New South Wales. It is widely distributed in Tasmania. It has also been introduced to New Zealand where it is widespread across South Island and in the southwest North Island. It has recently been discovered in Northland near Dragaville and they are known from around Auckland. It has been recorded up to 1,200m asl.
Habitat and Ecology
This species is found in various habitats from alpine to semi-arid shrubland, but most commonly in flooded grassland or marshes. It can also be found in suburban gardens. It is common in both temporary and permanent water. Breeding occurs at any time of year with peaks in spring and autumn. Males call from the ground or in low vegetation (up to 2m above the ground) at the water's edge or in water on floating vegetation. About 500-700 eggs are laid in small clumps attached to submerged vegetation, in still water in ponds, dams, lakes, streamside ponds and flooded roadside ditches. Metamorphosis takes 6-7 months.
Population
It is a widespread and common species in Australia. In New Zealand there are many thousands, but local declines possibly due to chytridiomycosis have been observed.
Population Trend
stable
Major Threats
Water pollution where the species occurs in urban areas, drainage of wetlands and the construction of dams are localized threats. Chytrid fungus or other/associated pathogens might be a threat to the species in its native range, and might already be affecting the species in its introduced range in New Zealand. Chytrid fungus was detected in this species in Woodville, South Australia. The Utilisation information refers to New Zealand populations.
Conservation Actions
Its range includes several protected areas throughout its range. Monitoring of the population is necessary in order to detect any occurrence of chytridiomycosis.
Red List Status
Least Concern (LC)
Rationale
Listed as Least Concern in view of its wide distribution, tolerance of a broad range of habitats, presumed large population, and because it is unlikely to be declining fast enough to qualify for listing in a more threatened category.
Citation
Jean-Marc Hero, Ben Bell, Frank Lemckert, Peter Robertson, Peter Brown 2004. Litoria ewingii. The IUCN Red List of Threatened Species 2004: e.T41090A10387445. http://dx.doi.org/10.2305/IUCN.UK.2004.RLTS.T41090A10387445.en .Downloaded on 19 February 2019
IUCN Terms of Use