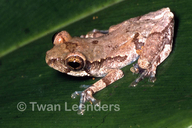 &copy 2007 Twan Leenders (1 of 11)

Conservation Status (definitions)
IUCN (Red List) Status
Least Concern (LC)
CITES
No CITES Listing

Other International Status
None
National Status
None
Regional Status
None
Range Description
This species ranges widely through the rainforest belt of central Africa, from southeastern Nigeria through Cameroon, Central African Republic, Equatorial Guinea (including Bioko Island), Gabon and Congo, to eastern Democratic Republic of Congo. It is likely to occur in the Cabinda Enclave of Angola, and this area is included in the species' distribution on the map, however there have not yet been any confirmed records. It is known from a large elevation range as it is found in low to high elevation areas, but the precise range is unknown (M.-O. Rödel pers. comm. July 2016).

Amiet (2000) shows that earlier records of Hyperolius tuberculatus from southern Congo (Largen and Dowsett-Lemaire 1991) are in fact Alexteroon hypsiphonus.
Habitat and Ecology
It is a species of forest clearings and heavily degraded former forest (farm bush), and secondary forest in the central African rainforest belt. It does not occur in closed, undisturbed forest. It breeds by larval development in both still and flowing water, using both temporary and permanent waterbodies.
Population
It is an abundant species. Surveys in 2012 have recorded this species in western Bas-Congo in the Democratic Republic of Congo (Nagy et al. 2013). Due to ongoing decline in the extent and quality of habitat, the population is suspected to be decreasing.
Population Trend
decreasing
Major Threats
It is an adaptable species that is not likely to be facing any significant threats, although small-holder farming and logging are threats to the habitat where it occurs.

Individuals from Gabon tested positive for Bd (Bell et al. 2011) suggesting that chytridiomycosis could be a threat to this species, although no mortalities or ill effects have been observed.

Conservation Actions
Conservation Actions
This species occurs in many protected areas including Ivindo, Loango and Moukalaba-Doudou National Parks in Gabon (Burger et al. 2006, Pauwels and Rödel 2007).

Conservation Needed
Habitat protection is required in the Bakossi Mountains.
Red List Status
Least Concern (LC)
Rationale
Listed as Least Concern in view of its wide distribution, tolerance of a broad range of habitats and its presumed large population.
Taxonomic Notes
While Amiet (2012) considers Hyperolius dintelmanni as a synonym of this species which is followed by Frost (2016), we are following Rayna Bell and Stefan Lötters (pers. comm. November 2016) that it should be maintained as a separate species pending further taxonomic study.
Citation
IUCN SSC Amphibian Specialist Group 2017. Hyperolius tuberculatus. The IUCN Red List of Threatened Species 2017: e.T56216A97523116. http://dx.doi.org/10.2305/IUCN.UK.2017-2.RLTS.T56216A97523116.en .Downloaded on 21 February 2019
IUCN Terms of Use