Hyla meridionalis
Mediterranean Tree Frog, Stripeless Tree Frog, Reineta meridional, Ustribet løvfrø, Mittelmeer laubfrosch, Vahemere lehekonn, Ranita meridional, Hegoaldeka zuhaitz-igela, Rainette méridionale, Râ, Raganella meridionale, Raganella baritono, Mediterrane boo
Subgenus: Hyla

family: Hylidae
subfamily: Hylinae
genus: Hyla

Taxonomic Notes: Duellman et al. (Zootaxa 2016) treated two major clades as genera; AmphibiaWeb treats these two clades as subgenera(Hyla in the Old World; Dryophytes in the New World and East Asia), thus stabilizing traditional taxonomy.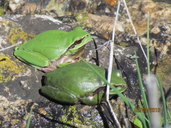 &copy 2015 merabet Khaled (1 of 46)

Conservation Status (definitions)
IUCN (Red List) Status
Least Concern (LC)
CITES
No CITES Listing

National Status
None
Regional Status
Bern Convention (Annex 2), 2002.