Hyla eximia
Mountain Treefrog, Madrean Treefrog
Subgenus: Dryophytes

family: Hylidae
subfamily: Hylinae
Taxonomic Notes: Duellman et al. (Zootaxa 2016) treated two major clades as genera; AmphibiaWeb treats these two clades as subgenera(Hyla in the Old World; Dryophytes in the New World and East Asia), thus stabilizing traditional taxonomy.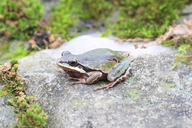 &copy 2014 Sean Michael Rovito (1 of 6)
| | |
| --- | --- |
| | hear call (9208.1K WAV file) |
Range Description
This species occurs in the Sierra Madre Occidental from southern Durango and the Sierra Madre Oriental from southwestern Tamaulipas southward to the Cordillera Volcánica and the Sierra Madre del Sur in Guerrero, Mexico. It is found at elevations of about 910-2,900 m asl (Stebbins, 1985).
Habitat and Ecology
It is found in mesquite-grassland, scrub forests and pine-oak forest. It has been recorded in bromeliads on pine trees (Duellman, 2001). It breeds in shallow pools, ponds, and slow moving streams. Egg masses are laid in loose clumps attached to vegetation in shallow water.
Population
There are numerous secure populations of this species.
Population Trend
stable
Major Threats
There are no known threats to this species.
Conservation Actions
The range of this species includes numerous protected areas.
Red List Status
Least Concern (LC)
Rationale
Listed as Least Concern in view of its wide distribution, presumed large population, and because it is unlikely to be declining to qualify for listing in a more threatened category.
Taxonomic Notes
Until recently, Hyla wrightorum was regarded as a synonym of Hyla eximia, but Duellman (2001) recognized H. wrightorum as a distinct species.

The genus Dryophytes was resurrected from synonymy under Hyla by Duellman et al. (2016) and this species was transferred from Hyla to Dryophytes.
Citation
Canseco-Márquez, L. & Hammerson, G.A. 2017. Dryophytes eximius. The IUCN Red List of Threatened Species 2017: e.T55478A112713562. http://dx.doi.org/10.2305/IUCN.UK.2017-1.RLTS.T55478A112713562.en .Downloaded on 23 January 2019
IUCN Terms of Use