Hyla arborea
Common Tree Frog
Subgenus: Hyla

family: Hylidae
subfamily: Hylinae
Taxonomic Notes: Duellman et al. (Zootaxa 2016) treated two major clades as genera; AmphibiaWeb treats these two clades as subgenera(Hyla in the Old World; Dryophytes in the New World and East Asia), thus stabilizing traditional taxonomy.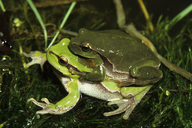 &copy 2009 Andreas & Christel Nöllert (1 of 107)
| | |
| --- | --- |
| | hear call (1778.5K WAV file) |
Range Description
This is a widespread Palearctic species occurring from Iberia (where there are scattered populations within its range) and France, eastwards to western Russia and the Caucasian region, and southwards to the Balkans and Turkey (except extreme eastern, southeastern parts). It is mostly absent from Scandinavia (except southern and eastern Denmark and extreme southern Sweden), and has been introduced to the UK (New Forest) but is now thought to be extinct there and is not mapped. This is a lowland species that has been recorded at a maximum altitude (in Europe) of 2,300m asl. (Bulgaria), although this requires reconfirmation.
Habitat and Ecology
This species is generally associated with open, well-illuminated broad-leaved and mixed forests, bush and shrublands, meadows, gardens, vineyards, orchards, parks, lake shores and low riparian vegetation. Dark and dense forests are avoided. Populations can tolerate periods of dryness and can be encountered in dry habitats (Dan Cogălniceanu pers. comm., October 2008). Spawning and larval development takes place in stagnant waters such as lakes, ponds, swamps and reservoirs, and sometimes in ditches and puddles. The species has been reported from anthropogenic landscapes, including large cities (e.g., Kiev). It sometimes occurs in sympatry with Hyla meridionalis (and produces infertile hybrids).
Population
While the species is common in suitable habitats in parts of its range, it is reported to be fragmented and in significant decline over much of its Western European distribution (e.g., Gasc et al., 1997; Baker, 1997; Fog, 1995).
Population Trend
decreasing
Major Threats
The species is quite sensitive to changes in habitat, including loss and fragmentation of forests, bush groves and meadows (with the isolation of populations), and the drainage and pollution of wetlands (industrial and agricultural) and predatory fish species. These impacts on metapopulations have led to declines in parts of Europe, and possible local declines in Turkey. The species is collected for the pet trade, and in some parts of its range (western Europe) this might be leading to local population declines.
Conservation Actions
It is listed on Appendix II of the Berne Convention and is listed on Annex IV of the EU Natural Habitats Directive. The species is protected by national legislation in many countries, it is recorded on many national and sub-national Red Data books and lists and it is present in many protected areas. It has been reintroduced to Latvia (Gaua National Park, Riga District) in 1987-1992 from Belarus and from captive bred individuals raised at Riga Zoo. Further research into the distribution limits of this species in southern Turkey is needed. In parts of this species range, mitigation measures to reduce road kill have been established.

In Sweden, a "restocking program" has successfully has increased the population from 2,000 (1980) to 50,000 (2008) in about 900 breeding ponds and the species has been repopulated to its historic range. The species benefits from pond creation programs in several areas of Central Europe. This is often a flagship species for numerous restoration programs.
Red List Status
Least Concern (LC)
Rationale
Listed as Least Concern in view of its wide distribution, presumed large population, and because it is unlikely to be declining fast enough to qualify for listing in a more threatened category.
Taxonomic Notes
Hyla arborea is the central member of the Hyla arborea complex, which includes several species of European and Asiatic tree frogs.
Citation
Ugur Kaya, Aram Agasyan, Aziz Avisi, Boris Tuniyev, Jelka Crnobrnja Isailovic, Petros Lymberakis, Claes Andrén, Dan Cogalniceanu, John Wilkinson, Natalia Ananjeva, Nazan Üzüm, Nikolai Orlov, Richard Podloucky, Sako Tuniyev, U?ur Kaya 2009. Hyla arborea. The IUCN Red List of Threatened Species 2009: e.T10351A3197528. http://dx.doi.org/10.2305/IUCN.UK.2009.RLTS.T10351A3197528.en .Downloaded on 23 January 2019
IUCN Terms of Use