Hydromantes platycephalus
Mount Lyell Salamander
Subgenus: Hydromantes

family: Plethodontidae
subfamily: Plethodontinae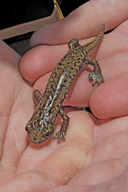 &copy 2013 Ann Chang (1 of 59)

Description
This species of Hydromantes has a flattened head and body, as the name--platy (flat)-cephalus (referring to the head)--suggests; blunt snout; short, blunt tail and a pedicelled, mushroom-shaped tongue (Stebbins 1951). There are 4 blunt-tipped, partly webbed toes on the front feet, and 5 on the hind feet. Adults reach about 120 mm total length, and usually have 12-13 costal grooves. There is some argument about its physical appearance in relation to other Plethodon secies: Stebbins (1951) reports relatively small eyes, but Petranka (1998) calls the eyes large relative to the head and body. Color: Dark chocolate to blackish above, with mottled pale gray to pinkish patches composed of whitish flecks; in some individuals, mottling completely obscures dark ground color; the dorsal coloration tends to match the color and pattern of granite rock common in this salamander?s habitat, and varies among populations as substrate color varies. Ventral color is sooty to blackish often broken by irregular clusters of silvery chromophores, especially beneath limbs, on gular region, and on sides of belly. Juveniles: Completely dark brown to black with scattered golden stippling, or clusters of pale yellow chromophores dorsally. Few silvery chromophores on gular region and chest. Males are usually longer than females and have wider heads (Adams 1942). They possess maxillary teeth which project below the margin of the upper lip, and an oval-shaped mental gland in the gular region (Stebbins, 1951, 1985).

Distribution and Habitat


Country distribution from AmphibiaWeb's database: United States

U.S. state distribution from AmphibiaWeb's database: California

Distribution: Restricted to California; mainly found in Boreal life zone of Sierra Nevada, From Alpine County south to Tulare County; from 1200 to 3600 m. (Stebbins 1951; Gorman 1964). Type locality, head of Lyell Canon, 10,800 ft. (3300 m). Yosemite National Park, Tuolomne Co., California. Museum of Vertebrate Zoology #5693, collected by Charles L. Camp on July, 18 1915. Habitat: Common on western slopes of central and southern Sierra Nevada. Substrate is decomposed granite, wet rock or earth, with little humus. These salamanders are rarely found close to vegetation, but nearby flora may include grass, lichen , moss, heather, alpine willow, white-barked pine and azalea. Animals are usually found beneath wet rocks near trickles of spring run-off and edges of melting snow, on bare earth or granite, and inside wet crevices and fissures (Stebbins 1951; Adams 1942).

Life History, Abundance, Activity, and Special Behaviors
This salamander is nocturnal, but there are few records of diurnal activity (Adams 1942). The active season may stretch from early May to late August, depending on local temperatures, snowfall and snowmelt. Special Behavior: When disturbed, this salamander may elevate its head and tail and arch its body downward. Webbed toes help the animal adhere to slippery, smooth-polished rocks, presumably by suctioning the feet to the substrate. All Hydromantes species use their short, blunt, muscular tails as walking sticks, bracing the tip against the substrate each time it lifts a rear foot to step forward. This method prevents the salamander from losing balance and foothold as it ascends steep inclines (Stebbins 1951). Workers have recently described a possible anti-predator behavior. Like other salamanders, Hydromantes platycephalus may coil into a ball when molested or picked up. Unlike other salamanders, individuals on this species often maintain this coiled position when dropped and-because they are commonly found on steep unvegetated slopes-roll quickly downhill after landing, effectively escaping their attackers (Garcia-Paris and Deban 1995).

Trends and Threats
Because H. platycephalus occur at such high altitudes on often difficult to reach mountainsides, no one has studied their population dynamics, densities or relative abundances. Consequently, their conservation status and possible threats are unknown.

Comments
Populations from the east slope of the Sierra Nevada extend down to the floor of the Owens Valley and have been given the common name of Owens Valley Web-toed Salamander, but they have not been formally described (Macey and Papenfuss 1991). They may be assignable to H. platycephalus.

View a video of H. platycephalus feeding.

See another account at californiaherps.com.

References


Adams, L. (1942). ''The natural history and classification of the Mount Lyell salamander, Hydromantes platycephalus.'' University of California Publications in Zoology, 46, 179-204.

Garcia-Paris, M. and Deban, S. M. (1995). ''A novel anti-predator mechanism in salamanders: Rolling escape in Hydromantes platycephalus.'' Journal of Herpetology, 29, 149-151.

Gorman, J. (1964). ''Hydromantes brunus, H. platycephalus, and H. shastae.'' Catalogue of American Amphibians and Reptiles. Society for the Study of Amphibians and Reptiles, 11.1-11.2.

Macey, J. R. and Papenfuss, T. J. (1991). ''Amphibians.'' Natural History of the White-Inyo Range, Eastern California. C. Hall, Jr., eds., University of California Press, Berkeley, 277-290.

Petranka, J. W. (1998). Salamanders of the United States and Canada. Smithsonian Institution Press, Washington D.C. and London.

Stebbins, R. C. (1985). A Field Guide to Western Reptiles and Amphibians. Houghton Mifflin, Boston.

Stebbins, R.C. (1951). Amphibians of Western North America. University of California Press, Berkeley.
---

Originally submitted by: Josh Whorley (first posted 1999-12-09)
Edited by: David B. Wake (Jan., 2000), Arie van der Meijden (Feb, 2001), Tate Tunstall(Nov 2003) (2010-04-26)

Species Account Citation: AmphibiaWeb 2010 Hydromantes platycephalus: Mount Lyell Salamander <https://amphibiaweb.org/species/4077> University of California, Berkeley, CA, USA. Accessed Sep 19, 2021.
---

Feedback or comments about this page.

Citation: AmphibiaWeb. 2021. <https://amphibiaweb.org> University of California, Berkeley, CA, USA. Accessed 19 Sep 2021.

AmphibiaWeb's policy on data use.