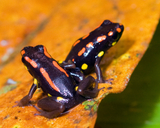 &copy 2010 Brad Wilson (1 of 9)

Description
Dendrobates captivus is one of the smallest known species of poison frogs, with adults measuring 15-17 mm in SVL. Adults are black with reddish-orange spots or dashes aligned dorsolaterally. Yellow dorsal spots present above armpits and groin. Ventral color black with irregular pale-yellow spots, typically occurring under the chin, under the thighs, and irregularly under the belly and chest. First finger shorter than second although well developed.

Tadpole are pale gray and ovoid, with a labial tooth row formula of 2(2)/3(1).

Distribution and Habitat


Country distribution from AmphibiaWeb's database: Ecuador, Peru

This species occurs in northwestern Peru in the valley between the Cordillera del Condor and Cerros de Campanquis. This species is known from two localities. The first is the mouth of the Rio Santiago, Amazonas, Peru. This is the type locality for the species and is a very wet lowland site. Here, D. captivus has been found at 213 m above sea level on both sides of Rio Marañón. The second locality is about 130 km southwest of the type locality, and is located in the Cordillera del Condor, about 20 km NNE of the type locality of Dendrobates mysteriosus, Santa Rosa, Cajamarca, Peru. The elevation of this site is unknown but likely exceeds 600 m. Dendrobates captivus may also occur in southern Ecuador, although further investigation is needed. Although this species has a relatively large distribution, it appears to be patchily distributed throughout its habitat.

Life History, Abundance, Activity, and Special Behaviors
This species is primarily terrestrial, although it appears to deposit tadpoles in Heliconia axils. Tadpoles are transported singly on the back of the parent. The advertisement call consists of a short 'shriek' repeated irregularly for several minutes. Males call from concealed positions such as plant axils.

Trends and Threats
The valley in which this species occurs is fairly undeveloped and consequently habitat destruction does not appear to be a major threat at the moment.

Relation to Humans
This species was rediscovered in 2006, 77 years after its original collection. Previous authors had allied this species to D. mysteriosus (Myers 1982) and Adelphobates (Grant et al. 2006). Twomey and Brown (2008) assigned this species to a new genus, Dendrobates, on the basis of molecular data and morphology. Dendrobates captivus is the sister taxon to D. mysteriosus, which form a clade sister to Ranitomeya.

References


Grant, T., Frost, D. R., Caldwell, J. P., Gagliardo, R., Haddad, C. F. B., Kok, P. J. R., Means, D. B., Noonan, B. P., Schargel, W. E., and Wheeler, W. C. (2006). ''Phylogenetic systematics of dart-poison frogs and their relatives (Amphibia: Athesphatanura: Dendrobatidae).'' Bulletin of the American Museum of Natural History, (299), 1-262.

Myers, C.W. (1982). ''Spotted poison frogs: Descriptions of three new Dendrobates from western Amazonia, and resurrection of a lost species from ''Chiriqui''.'' American Museum Novitates, 2721, 1-23.

Twomey, E. and Brown, J. L. (2008). ''Spotted poison frogs: rediscovery of a lost species and a new genus (Anura: Dendrobatidae) from northwestern Peru.'' Herpetologica, 64, 121-137.
---

Originally submitted by: Evan Twomey (first posted 2008-05-20)
Edited by: Kellie Whittaker (2010-03-01)

Species Account Citation: AmphibiaWeb 2010 Excidobates captivus: Santiago Poison Frog <https://amphibiaweb.org/species/1628> University of California, Berkeley, CA, USA. Accessed Dec 2, 2023.
---

Feedback or comments about this page.

Citation: AmphibiaWeb. 2023. <https://amphibiaweb.org> University of California, Berkeley, CA, USA. Accessed 2 Dec 2023.

AmphibiaWeb's policy on data use.