Eleutherodactylus symingtoni

Subgenus: Syrrhophus

family: Eleutherodactylidae
subfamily: Eleutherodactylinae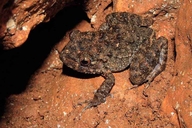 &copy 2010 Ariel Rodriguez (1 of 1)

Conservation Status (definitions)
IUCN (Red List) Status
Critically Endangered (CR)
CITES
No CITES Listing

Other International Status
None
National Status
Critically Endangered (Cuban Conservationn Action Management Plan)
Regional Status
None
Range Description
This species was formerly known from upland areas throughout western Cuba in Pinar del Río and Matanzas Provinces, Cuba, but its range has now decreased significantly. It has been recorded from 70-155m asl.
Habitat and Ecology
The species inhabits rocky areas and caves in lowland, mesic closed-canopy broadleaf forest. It has not been recorded outside forest habitat. It breeds by direct development.
Population
It is known from a relatively small number of scattered localities, and is considered to be a very rare species. There have been recent declines in the population, even in good habitat.
Population Trend
decreasing
Major Threats
The main threat is habitat loss due to infrastructure development for tourism, disturbance of the habitat by touristic activities, and agriculture. Two specimens collected in 2003 showed signs of disease, although the results of studies investigating which disease specifically are pending. However, declines within suitable habitat are suggestive of chytridiomycosis.
Conservation Actions
This species occurs in a few protected areas, but there is insufficient management of these for conservation, and the habitat continues to be degraded. Improved protection of the existing protected areas network is needed, as is urgent research to determine the cause of the decline.
Red List Status
Critically Endangered (CR)
Rationale
Listed as Critically Endangered because of a drastic population decline, estimated to be more than 80% over the last ten years, inferred from the apparent disappearance of most of the population, possibly due to disease; and because its Area of Occupancy is also less than 10km2, its distribution is severely fragmented, and the extent of its habitat, and the number of mature individuals, in western Cuba is declining; and because its population size is estimated to number fewer than 250 mature individuals and it is estimated there will be a continuing decline of at least 25% within three years.
Citation
Blair Hedges, Luis Díaz 2004. Eleutherodactylus symingtoni. The IUCN Red List of Threatened Species 2004: e.T56988A11552316. http://dx.doi.org/10.2305/IUCN.UK.2004.RLTS.T56988A11552316.en .Downloaded on 21 February 2019
IUCN Terms of Use