Dermatonotus muelleri
Muller's Termite Frog
family: Microhylidae
subfamily: Gastrophryninae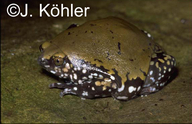 &copy 2003 J. Koehler (1 of 20)
| | |
| --- | --- |
| | hear call (12553.1K WAV file) |
| | hear call (4350.5K WAV file) |
Range Description
This species is known from central and southern Chaco: northern Argentina; southeastern Bolivia; Paraguay; and Brazil (from Maranhão to São Paulo). It occurs at elevations up to 1,500m asl.
Habitat and Ecology
Burrowing form occurs on the ground near waterlogged soils, where it breeds explosively in temporary pools. It probably does not adapt well to anthropogenic disturbance.
Population
It is locally abundant during reproductive bouts.
Population Trend
stable
Major Threats
It is threatened in Argentina by the destruction of Chaco habitat for agriculture and wood extraction, land and water pollution caused by agrochemical runoff. In Paraguay, this species is captured (legally) for the international pet trade.
Conservation Actions
It occurs in several protected areas.
Red List Status
Least Concern (LC)
Rationale
Listed as Least Concern in view of its wide distribution, tolerance of a broad range of habitats, presumed large population, and because it is unlikely to be declining fast enough to qualify for listing in a more threatened category.
Citation
Guarino Colli, Steffen Reichle, Débora Silvano, Julian Faivovich 2004. Dermatonotus muelleri. The IUCN Red List of Threatened Species 2004: e.T57804A11683931. http://dx.doi.org/10.2305/IUCN.UK.2004.RLTS.T57804A11683931.en .Downloaded on 21 February 2019
IUCN Terms of Use