Centrolene heloderma (Duellman, 1981)
Bumpy Glassfrog, Pichincha Giant Glass Frog, Warty Glassfrog, Rana de Cristal Verrugosa
family: Centrolenidae
subfamily: Centroleninae
genus: Centrolene

Species Description: Duellman, W. E. (1981). Three New Species of Centrolenid Frogs from the Pacific Versant of Ecuador and Colombia. University of Kansas Occasional Papers of the Museum of Natural History. 88:1-9.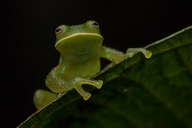 &copy 2020 Anton Sorokin (1 of 5)