Boophis picturatus

Subgenus: Boophis

family: Mantellidae
subfamily: Boophinae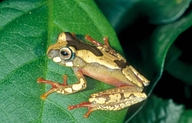 &copy 2008 Miguel Vences and Frank Glaw (1 of 3)
| | |
| --- | --- |
| | hear call (73.1K MP3 file) |
Range Description
This species occurs in the eastern rainforest belt of Madagascar from Perinet south to Midongy-du-Sud, between 850-1,000 m asl.
Habitat and Ecology
It is a rainforest species that does not occurring in secondary habitats. It probably breeds in slow-flowing brooks.
Population
It is a locally common to abundant species. However, due to ongoing declines in the extent and quality of habitat, the population is suspected to be decreasing.
Population Trend
decreasing
Major Threats
Its forest habitat is receding due to subsistence agriculture, timber extraction, charcoal manufacture, and invasive spread of eucalyptus, livestock grazing and expanding human settlements.

Species in this genus have tested positive for Batrachochytrium dendrobatidis (Bd), however currently there have been no negative effects observed within amphibian populations in Madagascar suggesting the Bd strain has a low virulence level (Bletz et al. 2015).
Conservation Actions
Conservation Actions
It occurs in the Ranomafana and Midongy-du-Sud National Parks and Analamazaotra Special Reserve.

Research Needed
Further research is also essential to fully understand the distribution, origin, type and virulence of Bd lineages found in Madagascar (Bletz et al. 2015).
Red List Status
Least Concern (LC)
Rationale
Listed as Least Concern in view of its relatively wide distribution and presumed large population.
Citation
IUCN SSC Amphibian Specialist Group 2016. Boophis picturatus. The IUCN Red List of Threatened Species 2016: e.T57421A84164368. http://dx.doi.org/10.2305/IUCN.UK.2016-1.RLTS.T57421A84164368.en .Downloaded on 21 February 2019
IUCN Terms of Use