Boophis burgeri

Subgenus: Boophis

family: Mantellidae
subfamily: Boophinae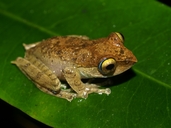 &copy 2013 Devin Edmonds (1 of 5)
| | |
| --- | --- |
| | hear call (145.0K MP3 file) |
Range Description
This species from east-central Madagascar is known with certainty only from a small area around Andasibe, but it may occur more widely in the region. Records from Marojejy, Masoala and Tsaratanana probably belong to an undescribed species. Its recorded altitudinal range is 815-900 m asl and its extent of occurrence (EOO) is 53 km2.
Habitat and Ecology
This species occurs in rainforest, including old secondary forest close to pristine forest, and breeds in streams.
Population
It is only known from a few specimens and is difficult to find during the rainy season when most surveys take place (F. Glaw pers. comm. November 2015). More recent surveys in 2013 and 2015 at Vohidrazana and in 2016 in nearby Analambalo have found sites where the species is locally abundant between December and March (D. Edmonds pers. comm. March 2016). It is easy to recognize thanks to its blue eye ring, but it has not been found in any other surveys of rainforest in eastern Madagascar (F. Glaw pers. comm. November 2015). Thus the population size is unknown, but due to ongoing decline in the quality and extent of its habitat its population is suspected to be decreasing.
Population Trend
decreasing
Major Threats
Its forest habitat is receding due to subsistence agriculture, timber extraction, charcoal manufacture, invasive spread of eucalyptus, livestock grazing and expanding human settlements. 

Species in this genus have tested positive for Batrachochytrium dendrobatidis (Bd), however currently there have been no negative effects observed within amphibian populations in Madagascar suggesting the Bd strain has a low virulence level (Bletz et al. 2015).
Conservation Actions
Conservation Actions
It occurs in Andasibe-Mantadia National Park.

Conservation Needed
Ongoing and improved protection of the species habitat is required.

Research Needed
Further research is required to clarify the species' distribution, population size and trends, and is essential to fully understand the distribution, origin, type and virulence of Bd lineages found in Madagascar (Bletz et al. 2015).
Red List Status
Data Deficient (DD)
Rationale
Listed as Data Deficient because extensive suitable habitat is available both to the north and south of the single confirmed site, thereby creating too much uncertainty around the limits of its range. In addition, there are continuing doubts as to its taxonomic status.
Taxonomic Notes
Unidentified specimens from places other than the type locality might belong to this species.
Citation
IUCN SSC Amphibian Specialist Group 2016. Boophis burgeri. The IUCN Red List of Threatened Species 2016: e.T57396A84162105. http://dx.doi.org/10.2305/IUCN.UK.2016-1.RLTS.T57396A84162105.en .Downloaded on 19 February 2019
IUCN Terms of Use