Boophis axelmeyeri

Subgenus: Boophis

family: Mantellidae
subfamily: Boophinae

Species Description: Vences M, Andreone F, Vieites DR 2005 New treefrog of the genus Boophis Tschudi 1838 from the northwestern rainforests of Madagascar. Trop. Zoology 18:237-249.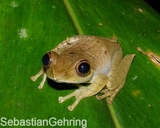 &copy 2010 Philip-Sebastian Gehring (1 of 2)
| | |
| --- | --- |
| | hear call (89.0K MP3 file) |
Range Description
This species occurs at the Tsaratanana, Manongarivo and Marojejy Massifs in northwestern Madagascar, between 668-1,000 m asl (Vences et al., 2005, Glaw and Vences, 2007, Andreone et al., 2008). It was recorded at Matsaborimaiky in Bemanevika forest, between 1400-1750m asl (Rabearivony et al., 2010), and at 4 km north of Andaparaty, from 110 m asl (Gehring et al., 2010) and Sorata Massif (F. Glaw pers. comm. November 2015). Observations from the Anjanaharibe Sud Special Reserve, Ambolokopatrika-Betaolana (at 1,200 m asl) and from Masoala (Andreone et al., 2008) require confirmation, but are now included in the distribution. As such, its extent of occurrence (EOO) is 30,844 km2.
Habitat and Ecology
This species appears to be restricted to primary mid- to high-elevation tropical moist forest (Vences et al., 2005) and is not thought to occur in disturbed areas. Calling males have been observed at night perched on vegetation at 2-3 m alongside small streams. It is a stream-breeding species with a larval development stage (Vences et al., 2005).
Population
This species appears to be locally abundant in non-degraded habitat and it might exist as several isolated sub-populations (Vences et al., 2005). Due to ongoing habitat loss, its population is suspected to be decreasing.
Population Trend
decreasing
Major Threats
The known populations within protected areas are not considered to be under any immediate threat (Vences et al., 2005). However, it is a forest specialist, and so any populations outside protected areas could be at risk from forest loss. Andreone et al. (2008) generally report that there is substantial continuing decline in the extent and quality of its habitat, presumably through the general conversion of land to agricultural use or logging/collection of firewood. In addition, intensive illegal wood extraction of rosewood species within Marojejy National Park that followed the 2009 political crisis of Madagascar caused concerns for the survival of rainforest–restricted species, such as this one. However, while illegal rosewood logging has probably ceased, wood extraction currently taking place in the Park seems to occur at lower elevations and is not thought to have reached elevations where this species has been recorded; along the boundaries of Marojejy deforestation is taking place to clear land for agriculture (F. Glaw pers. comm. November 2015).

Species in this genus have tested positive for Batrachochytrium dendrobatidis (Bd), however currently there have been no negative effects observed within amphibian populations in Madagascar suggesting the Bd strain has a low virulence level (Bletz et al., 2015).
Conservation Actions
Conservation Actions
This species has been recorded from within the Tsaratanana Strict Nature Reserve, Manongarivo Special Reserve, and Marojejy National Park (Vences et al., 2005; Andreone et al., 2008), and may be present within the Anjanaharibe-Sud Special Reserve and the Masoala National Park. 

Conservation Needed
Improved protection and management of forests throughout the region is required, including within the boundaries of protected areas.

Research Needed
Additional studies are needed into the distribution, population size and trends, ecological requirements, and threats to this species. Further research is also essential to fully understand the distribution, origin, type and virulence of Bd lineages found in Madagascar (Bletz et al., 2015).
Red List Status
Least Concern (LC)
Rationale
Listed as Least Concern due to its wide distribution and presumed large population. However, there is ongoing decline in the quality and extent of its habitat and the protected areas in which it occurs could therefore increase the level of protection within their boundaries.

Citation
IUCN SSC Amphibian Specialist Group 2016. Boophis axelmeyeri. The IUCN Red List of Threatened Species 2016: e.T135812A84184587. http://dx.doi.org/10.2305/IUCN.UK.2016-1.RLTS.T135812A84184587.en .Downloaded on 20 February 2019
IUCN Terms of Use