Atelopus tricolor
Tri-Colored Harlequin frog
family: Bufonidae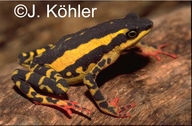 &copy 2003 J. Koehler (1 of 2)

Conservation Status (definitions)
IUCN (Red List) Status
Vulnerable (VU)
CITES
No CITES Listing

Other International Status
None
National Status
None
Regional Status
None
Range Description
This species is found in the eastern Andes in Peru and Bolivia, at elevations of 600-2,500 m asl. The type locality is the Marcapata Valley in Peru, in the Amazonian slopes of the eastern Andes (south-eastern Cusco Department). Other Peruvian records are from areas close to Puno Department, at 1,700-2,100 m asl (Duellman 1979, Köhler 2000a). In Bolivia there are records from La Paz Department, in the Yungas region, and south in the Chapare region, Cochabamba Department, eastern slopes of the Andes (Fugler 1984, De la Riva 1990, Reynolds and Foster 1992, Köhler 2000a). The larval description of A. tricolor comes from 12 samples from Paucartambo-Atalaya, 68 km (by road) north-east of Union Bridge, at Tachila River, 1,700 m asl, Cusco Department, Peru; and five specimens from 40 km north Caranavi, Buena Vista Hills, Nor Yungas Province, La Paz Department, Bolivia (Lavilla et al. 1997).
Habitat and Ecology
This species inhabits wet primary montane forest, corresponding to the Yungas Forest (De la Riva et al. 2000, Köhler 2000a). Breeding takes place in streams. Köhler (2000a) observed this species perching, at night, at 0.3-1.2 m elevation, in vegetation in disturbed primary forest, and secondary growth along roadsides. Males call in small groups of 4-10 individuals.
Population
It is still common within its range, and the declines associated with other species of Atelopus have not yet been noted in this species. It has been recorded as recently as 2003.
Population Trend
decreasing
Major Threats
The major threats are habitat loss, due to small-holder farming activities (coffee, coca, chili peppers), and pollution, as a result of increased stream sedimentation. Chytridiomycosis has yet to be found in this species, but is a potential major threat in the future. Introduced predatory trout might be a threat in some areas.
Conservation Actions
In Bolivia, it is present in the Parque Nacional Carrasco, Parque Nacional Madidi and Pilon Lajas. In Peru, it is present in Manu Biosphere Reserve. Continued population monitoring is required, especially in light of the potential threat of chytridiomycosis.
Red List Status
Vulnerable (VU)
Rationale
Listed as Vulnerable because of a projected population decline, estimated to be more than 30% over the next ten years, inferred from declines in other high altitude Atelopus species in the same region, probably due to chytridiomycosis.
Taxonomic Notes
Reynolds and Foster (1992) indicated that Atelopus rugulosus is a synonym of A. tricolor. Subsequently, Lötters and De la Riva (1998) confirmed this and pointed out that in evaluating the types of A. rugulosus from south-east Peru, and A. wilimani from Bolivia, both are synonyms of A. tricolor.
Citation
Salas, A., Ibáñez, R., Catenazzi, A., Chaparro, J.C., Angulo, A., Reichle, S., Köhler, J., De la Riva, I., Lötters, S., Cortez, C. & Arizabal, W. 2004. Atelopus tricolor. The IUCN Red List of Threatened Species 2004: e.T54559A86446362. http://dx.doi.org/10.2305/IUCN.UK.2004.RLTS.T54559A11167505.en .Downloaded on 15 February 2019
IUCN Terms of Use