Arcovomer passarellii

family: Microhylidae
subfamily: Gastrophryninae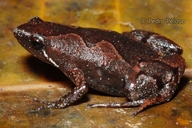 &copy 2010 Pedro L. V. Peloso (1 of 2)
| | |
| --- | --- |
| | hear call (256.2K MP3 file) |
| | hear call (52.3K WAV file) |
Range Description
This species from southeastern Brazil occurs in the States of Espírito Santo, Rio de Janeiro, and northeastern São Paulo. It is a lowland species occurring up to 200m asl.
Habitat and Ecology
It is found in lowland primary and secondary forest, living on the ground in the leaf-litter. It is not found in open areas. It breeds in temporary ponds inside the forest.
Population
It is common where it occurs.
Population Trend
decreasing
Major Threats
The major threats are probably related to habitat loss due to agriculture, wood plantations, logging, human settlement, tourism and fire.
Conservation Actions
It is found in several protected areas.
Red List Status
Least Concern (LC)
Rationale
Listed as Least Concern in view of its wide distribution, tolerance of a degree of habitat modification, presumed large population, and because it is unlikely to be declining fast enough to qualify for listing in a more threatened category.
Taxonomic Notes
Pombal and Bastos (1992) noted that records from Espírito Santo probably represent a distinct, smaller species.
Citation
Sergio Potsch de Carvalho-e-Silva, Oswaldo Luiz Peixoto 2004. Arcovomer passarellii. The IUCN Red List of Threatened Species 2004: e.T57681A11663112. http://dx.doi.org/10.2305/IUCN.UK.2004.RLTS.T57681A11663112.en .Downloaded on 20 February 2019
IUCN Terms of Use