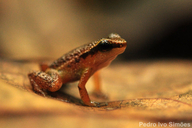 &copy 2013 Pedro Ivo Simoes (1 of 6)

Authors: Albertina P. Lima, William E. Magnusson, Marcelo Menin, Luciana K. Erdtmann, Domingos J. Rodrigues, Claudia Keller, Walter Hödl

Distribuição na RFAD: Pode ser facilmente encontrada em toda a reserva.

Distribuição geral: Até o momento a espécie só foi registrada na região que se estende de Manaus até Presidente Figueiredo, Amazonas (Brasil).

Descrição: Machos 14-17 mm, fêmeas 16-18 mm. O dorso tem coloração em diferentes tonalidades de marrom. Uma faixa lateral marrom mais escura vai do focinho até o meio do corpo. Abaixo desta linha lateral e nos dedos há vários pontos de cor branco-gelo. Na época de reprodução, os machos podem ser diferenciados das fêmeas por terem uma expansão lateral no terceiro dedo da mão. O saco vocal dos machos é esbranquiçado a cinza escuro. A região gular das fêmeas é branca. Os jovens têm a cabeça escura e a superfície dorsal do corpo marrom-clara.

Espécies semelhantes: Se parece com Colostethus sp., mas este se diferencia por ter a faixa lateral marrom escura contínua do focinho até a cloaca, formando um círculo em volta do corpo, o dorso marrom-alaranjado, e as patas traseiras acinzentadas. Jovens de Adenomera andreae ou Eleutherodactylus fenestratus se diferenciam pela ausência da faixa lateral marrom.

História natural: Terrestres e diurnos. Os adultos alimentam-se principalmente de cupins, moscas e besouros, enquanto os jovens alimentam-se principalmente de colêmbolos e ácaros. Reproduzemse entre novembro e março, com um pico em janeiro. As fêmeas depositam aproximadamente 3 a 6 ovos em folhas secas enroladas ou dobradas, onde os girinos se desenvolvem até a metamorfose. Os machos são territoriais, e cuidam dos ovos e girinos.



---

Feedback or comments about this page.

Citation: AmphibiaWeb. 2023. <https://amphibiaweb.org> University of California, Berkeley, CA, USA. Accessed 25 Sep 2023.

AmphibiaWeb's policy on data use.