Anodonthyla moramora

Subgenus: Cophylinae

family: Microhylidae
subfamily: Cophylinae

Species Description: Glaw and Vences 2005 Spixiana 28:181-189.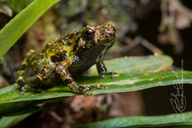 &copy 2014 Rob Schell (1 of 2)
| | |
| --- | --- |
| | hear call (161.3K MP3 file) |
Range Description
This species has only been recorded from Ranomafana village (c. 550 m asl) to the Kidonafo bridge near Vohiparara (1,000 m asl), in the region of Ranomanfana National Park in eastern Madagascar, where it is likely to be a regional endemic. While it probably occurs in forest fragments beyond Ranomafana, and there have been intensive surveys in the central-eastern rainforests around Andasibe and Moramanga, this species has never been seen or heard in these sites or beyond the immediate vicinity of the park. It is therefore reasonable to assume the species range extends at least to the boundaries of the park where there is a degree of habitat protection, so its map has been adjusted to reflect this giving it an extent of occurrence (EOO) of 685 km2.
Habitat and Ecology
Calling males have been observed mostly after dusk in primary rainforest and in secondary vegetation. They sit on tree trunks at heights of 50-150 cm above the ground. They have also been found in small tree holes and hidden under extensive moss layers on tree trunks. Close to Ranomafana village, this species was found in acoustic syntopy with Anodonthyla sp. (also mentioned in the assessment for A. boulengerii). It may be able to adapt to secondary habitats to some extent, but the degree to which this is the case is unclear as the species has previously been mistaken for more disturbance-tolerant species (M. Vences pers. comm. December 2010). In common with other members of the genus, it presumably breeds in water-filled tree holes by larval development.
Population
This species is relatively common in Ranomafana National Park. However, due to ongoing decline in the extent and quality of habitat, the population is suspected to be decreasing.
Population Trend
decreasing
Major Threats
There is ongoing decline in the extent and quality of its forest habitat due to subsistence agriculture, timber extraction, charcoal manufacturing, invasive spread of eucalyptus, livestock grazing, regular burning to maintain cattle pasture, expanding human settlements, and a recent increase in artisinal mining (F. Glaw pers. comm. November 2014). There is encroachment of wood extraction within the boundaries of the National Park.
Conservation Actions
Conservation Actions
It occurs within, but is not restricted to, the boundaries of Ranomafana National Park. 

Conservation Needed
Protection and management of forest both within, as well as outside the border of Ranomafana National Park where this species may exist, is necessary. 

Research Needed
Further research is required to better understand the species' population size, distribution and trends.
Red List Status
Endangered (EN)
Rationale
Listed as Endangered because its extent of occurrence (EOO) is limited to 685 km2, it is known from two threat-defined locations, and there is ongoing decline in the quality and extent of its habitat, despite there being some level of habitat protection within the boundaries of Ranomafana National Park in eastern Madagascar.
Taxonomic Notes
This species has previously been confused with other species of Anodonthyla within the region (M. Vences pers. comm. December 2010).
Citation
IUCN SSC Amphibian Specialist Group 2016. Anodonthyla moramora. The IUCN Red List of Threatened Species 2016: e.T136055A517485. http://dx.doi.org/10.2305/IUCN.UK.2016-1.RLTS.T136055A517485.en .Downloaded on 23 January 2019
IUCN Terms of Use