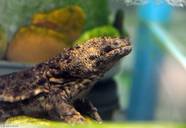 &copy 2011 John White (1 of 14)

Conservation Status (definitions)
IUCN (Red List) Status
Near Threatened (NT)
CITES
Appendix I

National Status
Fully protected by law since 1952; classified as rare (Kato and Ota 1993). NT (Near Threatened) according to the Red Data Book, 2nd ed. (Japan Agency of Environment 2000; Ota 2000)
Regional Status
None
Access Conservation Needs Assessment Report.