Anaxyrus punctatus
Red-Spotted Toad
family: Bufonidae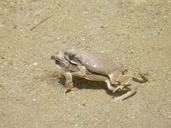 &copy 2012 Vicente Mata-Silva (1 of 55)
| | |
| --- | --- |
| | hear call (448.5K MP3 file) |
| | hear call (132.9K MP3 file) |
| | hear call (226.5K MP3 file) |
Range Description
This species is known from California, Nevada, central Utah, Colorado, and southwestern Kansas in the USA, south to southern Baja California and central Mexico, and to the state of Querétaro. It occurs at elevations up to about 1,980m asl.
Habitat and Ecology
This species inhabits rocky canyons and gullies in deserts, grasslands, and dry woodlands. It hides under rocks, in rock crevices, or underground when inactive. Eggs and larvae develop in shallow water in temporary rain pools, spring-fed pools, and pools along intermittent streams.
Population
It is widespread and common.
Population Trend
Stable
Major Threats
There are no major threats to this species.
Conservation Actions
This species occurs in several protected areas throughout its range.
Red List Status
Least Concern (LC)
Citation
Geoffrey Hammerson, Georgina Santos-Barrera 2010. Anaxyrus punctatus. In: IUCN 2014
IUCN Terms of Use