Anaxyrus cognatus
Great Plains Toad
family: Bufonidae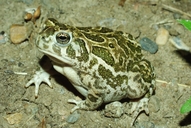 &copy 2011 Michael Graziano (1 of 38)
| | |
| --- | --- |
| | hear call (272.6K RM file) |
| | hear call (10337.1K WAV file) |
Range Description
This species is widespread in much of central and southwestern USA (western Minnesota, western Iowa, central Missouri, central Oklahoma, northern and western Texas, central Montana, eastern Wyoming, eastern and south-central Colorado, southeastern California, southern Nevada, southern Arizona and northern Utah) and northern Mexico (Sonora, Chihuahua, Coahuila, Sinaloa, Tamaulipas and Nuevo León). The range extends as far north as southern Manitoba and southeastern Alberta, Canada. Elevational range extends from sea level up to 2,440 m asl (in Colorado; Hammerson 1999). Its extent of occurrence is 5,165,915 km
Habitat and Ecology
This species inhabits deserts, grasslands, semi-desert shrublands, open floodplains, and agricultural areas, typically in stream valleys. It burrows underground when inactive. It breeds in rain pools, flooded areas, and ponds and reservoirs that fluctuate in size. Eggs and larvae develop in shallow water (usually clear).
Population
Population size is unknown but very large. The population trend is unknown but probably stable to slightly declining.
Population Trend
Unknown
Major Threats
This species is not threatened overall. It uses some cultivated areas successfully, but extensive-intensive farming eliminates or reduces local sub-populations. It experiences mortality as a result of road traffic, especially when roads are in close proximity to wetlands (COSEWIC 2010). Breeding sites are typically the result of heavy rains and hence not generally subject to loss via water projects. In fact, this toad often breeds in reservoir edges. Suburban sprawl has eliminated breeding and non-breeding habitats in areas adjacent to growing cities in Colorado (Hammerson 1999). In Mexico it can be threatened by land use change due to urbanization (G. Santos, pers. comm. Red List Workshop, June 2014).
Conservation Actions
HTML::Element=HASH(0x3a0d9b0)
Red List Status
Least Concern (LC)
Citation
IUCN SSC Amphibian Specialist Group 2015. Anaxyrus cognatus. In: IUCN 2014
IUCN Terms of Use