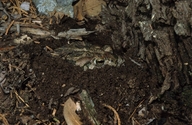 &copy 2009 Andreas & Christel Nöllert (1 of 45)

Description
Adult snout-vent lengths range from 47 to 103 mm for males and from 49 to 115 mm for females. The body is large and broad, with prominent parotoid glands, and numerous, small dorsal tubercles. On the head, the two cranial crest form a "V" between the eyes. Dorsal coloration is usually greenish, but may be grey, brown, or brownish-yellow. Large dorsal patches are paired and may be bordered by a black and a cream or white band. Smaller spots are present on the sides of the body, and green spots are found on the legs. Males have a black vocal sac, covered by a light-colored throat sac. The call is described as metallic and loud.

Distribution and Habitat


Country distribution from AmphibiaWeb's database: Canada, Mexico, United States

U.S. state distribution from AmphibiaWeb's database: Arizona, California, Colorado, Iowa, Kansas, Minnesota, Missouri, Montana, North Dakota, Nebraska, New Mexico, Nevada, Oklahoma, South Dakota, Texas, Utah, Wyoming

Canadian province distribution from AmphibiaWeb's database: Alberta, Manitoba, Saskatchewan

The range extends westward from central Missouri, western Minnesota, and Iowa into central Montana, southeastern California, and Nevada. It extends southward from southern Manitoba to Alberta into Aquascalientes and San Luis Potosi in Mexico. Anaxyrus cognatus is usually found at elevations up to 1800 m, and as high as 2400 m in the San Luis Valley of Colorado. The habitat of A. cognatus includes both short and tall-grass prairie grasslands as well as mesquite grassland, desert scrub, an desert riparian associations in the western and southern portions of its range.

Comments
See another account at californiaherps.com.
---

Originally submitted by: Franziska Sandmeier (first posted 2001-02-05)
Edited by: Arie van der Meijden, Kellie Whittaker (2020-02-12)

Species Account Citation: AmphibiaWeb 2020 Anaxyrus cognatus: Great Plains Toad <https://amphibiaweb.org/species/145> University of California, Berkeley, CA, USA. Accessed Dec 9, 2022.
---

Feedback or comments about this page.

Citation: AmphibiaWeb. 2022. <https://amphibiaweb.org> University of California, Berkeley, CA, USA. Accessed 9 Dec 2022.

AmphibiaWeb's policy on data use.