Ambystoma californiense
California Tiger Salamander
Subgenus: Heterotriton

family: Ambystomatidae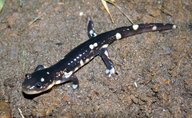 &copy 2012 William Flaxington (1 of 123)

Conservation Status (definitions)
| | |
| --- | --- |
| IUCN (Red List) Status | Vulnerable (VU) |
| NatureServe Status | Use NatureServe Explorer to see status. |
| CITES | No CITES Listing |
| Other International Status | None |
| National Status | Threatened |
| Regional Status | Threatened |
Range Description
This species has a discontinuous distribution in west-central California, USA: coast ranges between Sonoma and Santa Barbara counties, Central Valley and surrounding foothills from southern Colusa County to north-western Kern County on the west side of the valley and southern Butte County to northern Tulare County on the east side. It has been eliminated from much of its former range in the Central Valley as a result of agricultural and urban development (Stebbins 1985b), but still occurs throughout most of its overall historical range and can be locally common (Trenham et al. 2000). About 80% of all extant occurrences are in Alameda, Contra Costa, Madera, Merced, Monterey, San Benito, and Santa Clara counties, with 30% of all occurrences in Alameda County. It has recently been rediscovered on the San Francisco Peninsula (Lagunita Lake, Stanford University) (Barry and Shaffer 1994). Jennings (1996; Herpetological Review 27:147) provides an old record from San Mateo County. It ranges from near sea level to 1,054m asl.
Habitat and Ecology
This species occurs in grassland or open woodland habitats, where it lives in vacant or mammal-occupied burrows (e.g., California Ground Squirrel, Valley Pocker Gopher) (Trenham 2001), and occasionally in other underground retreats, throughout most of the year. Eggs are laid on submerged stems and leaves, usually in shallow ephemeral or semi permanent pools and ponds that fill during heavy winter rains, sometimes in permanent ponds; adults spend little time in breeding sites.
Population
Total adult population size is unknown, but certainly exceeds 10,000. However, it appears to be in decline due to habitat loss. It has been eliminated from 55-58% of historic breeding sites, and reportedly about 75% of the historical vernal pool-breeding habitat has been lost (Holland 1998) (though some question the reliability of this estimate). Barry and Shaffer (1994) stated that this salamander soon would be in danger of extinction throughout its range, and they noted that it already is gravely threatened in the San Francisco Bay Area and in the San Joaquin Valley. But Trenham et al. (2000) noted that the species still occurs in most of the historical range and can be locally common. In Santa Barbara County, of 14 documented breeding sites, half have been destroyed or have suffered severe degradation since mid-1999 (USFWS 2000).
Population Trend
decreasing
Major Threats
Most of the remaining range, including population strongholds in eastern Alameda and Contra Costa counties and areas south and west of Millerton Lake in Madera and Fresno counties, is imminently threatened by urban development, conversion of natural habitat to agriculture, introduction of exotic predatory animals (bullfrogs, crayfish, various fishes) that temporarily may occupy salamander breeding habitat, and/or other anthropogenic factors (e.g., rodent control programs, vehicle-related mortality). Reduced ground squirrel populations might reduce the availability of burrows, which are important habitats during the dry season. The use of pesticides for mosquito abatement might reduce food resources for salamanders. Introduction of non-native tiger salamanders might harm populations through hybridization and/or competition. Contaminated runoff from roads might adversely affect salamanders in breeding sites. Localities in the Diablo Range, inner Coast Ranges, and Sierra Nevada foothills are not significantly threatened at present, and there are still a relatively large number of remaining breeding localities. In Santa Barbara County, plans to convert remaining breeding areas from grazing to intensive agriculture are being developed and implemented (USFWS 2000). Five of the six existing habitat complexes supporting this population suffered moderate to severe levels of habitat destruction or degradation between 1996 and 2000 (USFWS 2000). See USFWS (2000) for further information on threats to the Santa Barbara County population.
Conservation Actions
This species occurs in several state and regional parks and other at least semi-protected areas. Most populations are on private land; an estimated 5% of known populations occur on government-owned lands. In Santa Barbara County, all of the known and potential habitat is largely on unprotected private land (USFWS 2000). As of August 2005, the California Tiger Salamander is protected by California law as a threatened species.
Red List Status
Vulnerable (VU)
Rationale
Listed as Vulnerable because of a population decline, estimated to be more than 30% over the last three generations, inferred from habitat destruction and degradation. The generation length is estimated to be eight years.
Citation
Geoffrey Hammerson 2004. Ambystoma californiense. The IUCN Red List of Threatened Species 2004: e.T1098A3234573. http://dx.doi.org/10.2305/IUCN.UK.2004.RLTS.T1098A3234573.en .Downloaded on 20 January 2019
IUCN Terms of Use