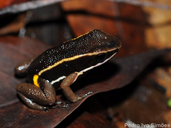 &copy 2013 Pedro Ivo Simoes (1 of 19)

Authors: Albertina P. Lima, William E. Magnusson, Marcelo Menin, Luciana K. Erdtmann, Domingos J. Rodrigues, Claudia Keller, Walter Hödl

Distribuição na RFAD: Ocorre mais freqüentemente perto das bordas da reserva, principalmente em solos argilosos com poças temporárias.

Distribuição geral: Ocorre em florestas da Amazônia no Brasil, Bolívia, Peru, Equador, Colômbia, Guiana, Suriname e Guiana Francesa.

Descrição: Machos 28-33 mm, fêmeas 33-35 mm. O dorso é negro ou castanho- escuro, com uma linha dorsolateral marrom-clara do focinho até a região inguinal e outra linha ventrolateral branca e descontínua. As pernas são castanho- escuras. Uma mancha alaranjada em forma de meia lua se estende da região inguinal até a coxa e outra amarela/ alaranjada estão situada na região axilar. O ventre é branco com manchas negras irregulares e a região gular é negra.

Espécie semelhante: Lithodytes lineatus se diferencia por possuir uma faixa dorsolateral amarela a amarelada que circunda toda a parte dorsal; patas traseiras com faixas claras e escuras alternadas, e várias manchas alaranjadas nas coxas.

História natural: Terrestres e diurnos. Os adultos alimentam-se de besouros, formigas, grilos e baratas, enquanto os jovens alimentam-se de colêmbolos. Reproduzem- se entre novembro e abril, com um pico em janeiro ou fevereiro. A desova contém aproximadamente 8 a 17 ovos e é depositada entre folhas secas, onde os girinos se desenvolvem até serem carregados pelo macho para poças de água. Os machos são territoriais e cuidam dos ovos e girinos enquanto eles estão nas folhas. Os machos cortejam as fêmeas dentro de seus territórios por 2 ou 3 dias antes da oviposição.



---

Feedback or comments about this page.

Citation: AmphibiaWeb. 2023. <https://amphibiaweb.org> University of California, Berkeley, CA, USA. Accessed 29 Jan 2023.

AmphibiaWeb's policy on data use.