Allobates femoralis

family: Dendrobatidae
subfamily: Aromobatinae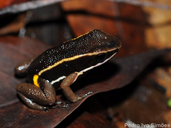 &copy 2013 Pedro Ivo Simoes (1 of 20)

Conservation Status (definitions)
IUCN (Red List) Status
Least Concern (LC)
CITES
Appendix II

Other International Status
None
National Status
None
Regional Status
None
Range Description
This species occurs in the lowland forests of Guyana, Suriname and French Guiana, and the Amazon drainage basin of Colombia, Ecuador, Peru, western Amazonian Bolivia and Brazil. It was reported from the La Escalera region, Bolívar state, Venezuela (Duellman 1997), but this record has since be reassigned to Ameerega picta (Barrio-Amorós 2004). It is generally found below 300 m, but occurs up to 1,000 m asl in Ecuador and Colombia.
Habitat and Ecology
It is a diurnal species that is found on the forest floor of tropical lowland forests. It can be found throughout the day in primary or secondary forest and in edges and clearings (Rodríguez and Duellman 1994). It lays its eggs on the leaf-litter. Tadpoles are carried on the back to temporary pools.
Population
It is common throughout much of its range. In Venezuela, it is just known from a single specimen without much data.
Population Trend
stable
Major Threats
There are no known threats to this species.
Conservation Actions
It occurs in many protected areas throughout its range.
Red List Status
Least Concern (LC)
Rationale
Listed as Least Concern in view of its wide distribution, tolerance of a degree of habitat modification, presumed large population, and because it is unlikely to be declining to qualify for listing in a more threatened category.
Taxonomic Notes
It is probably a complex of more than one species.
Citation
Enrique La Marca, Claudia Azevedo-Ramos, Robert Reynolds, Luis A. Coloma, Santiago Ron 2010. Allobates femoralis. The IUCN Red List of Threatened Species 2010: e.T55038A11244330. http://dx.doi.org/10.2305/IUCN.UK.2010-2.RLTS.T55038A11244330.en .Downloaded on 23 February 2019
IUCN Terms of Use