Allobates femoralis

family: Dendrobatidae
subfamily: Aromobatinae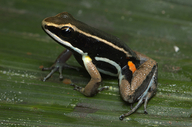 &copy 2006 Alessandro Catenazzi (1 of 20)

Description
Males 28-33 mm, females 33-35 mm. The dorsum is black or dark brown. A light brown dorsolateral line and a broken white ventrolateral line run from the snout to the base of the legs. The legs are dark brown. An orange half-moon shaped patch extends from the base of the legs onto the thigh and there is an orange-yellow patch behind the forelimb. The belly is white with irregular black markings, and the throat region is black.

Lithodytes lineatus is similar in size and color, but has a yellow dorsolateral stripe that circles the whole dorsum, hind legs with alternating light and dark bars, and more than one orange patch on the thighs.

Distribution and Habitat


Country distribution from AmphibiaWeb's database: Brazil, Colombia, Ecuador, French Guiana, Guyana, Peru, Suriname

Occurs principally on clay soils with seasonal pools, on the edges of the Reserva Florestal Adolpho Ducke in Brazil.

Life History, Abundance, Activity, and Special Behaviors
Diurnal and terrestrial. Adults feed mainly on beetles, ants, crickets and roaches, and juveniles eat mainly collembolans. Reproduction occurs between November and April, with a peak in January or February. Clutches contain about 8-17 eggs and are deposited out of water between fallen leaves. Development to hatching takes place between the leaves. The tadpoles are carried on the back of the male to pools. Males are territorial, and attend the eggs and tadpoles in the leaf nest. Males court females within their territories for 2-3 days before egg-laying.

Females do not appear to respond to playback calls (Hödl 1983). (This paragraph is in the process of editing.)

Comments
This species was featured in News of the Week Juty 15, 2015:
Amphibians display a wide spectrum of parental care, from abandonment after laying eggs to provisioning larvae with food after hatching or live birth, which has been considered a fixed trait. Ringler et al. (2015) tested that assumption in Allobates femoralis, a species in which males obligatorily transport tadpoles and females provide no parental care, after observing a small proportion of tadpole transportation by females over a 5 year period. Using both previously observed data and laboratory experiments with wild-caught individuals, the authors tested if mothers transported tadpoles when fathers disappeared. The statistical and experimental results consistently showed that females compensate for unavailable males by transporting tadpoles themselves. The authors urge more cautious labelling of uniparental care as it may oversimplify parental behavioral flexibility. (Written by Ann Chang)
Short clip edited from "Allobates femoralis calling behavior"

Allobates femoralis calling behavior

Shows calling in the wild; the process of recording calls in the field; and behavior of an individual male in response to call playback.
Language: German. Run-time: 0:10 and 2:32.
Videos submitted by Dr. W. Hödl.
Click here to download a .pdf of Hödl's (1983) paper describing the film.
---

Originally submitted by: Albertina P. Lima, William E. Magnusson, Marcelo Menin, Luciana K. Erdtmann, Domingos J. Rodrigues, Claudia Keller, Walter Hödl (first posted 2007-11-14)
Edited by: Keith Lui, Christine Lu (2021-11-05)

Species Account Citation: AmphibiaWeb 2021 Allobates femoralis <https://amphibiaweb.org/species/1661> University of California, Berkeley, CA, USA. Accessed Dec 8, 2021.
---

Feedback or comments about this page.

Citation: AmphibiaWeb. 2021. <https://amphibiaweb.org> University of California, Berkeley, CA, USA. Accessed 8 Dec 2021.

AmphibiaWeb's policy on data use.