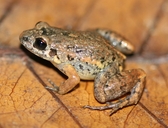 &copy 2012 Andrés Acosta (1 of 5)

Authors: Albertina P. Lima, William E. Magnusson, Marcelo Menin, Luciana K. Erdtmann, Domingos J. Rodrigues, Claudia Keller, Walter Hödl

Distribuição na RFAD: É comum nas bordas externas da reserva e em áreas perturbadas.

Distribuição geral: Amazônia do Brasil, Bolívia, Peru, Colômbia e em algumas partes da Venezuela, e Guiana, Suriname e Guiana Francesa.

Descrição: Machos 22-24 mm, fêmeas 26-27 mm. O dorso tem várias tonalidades de marrom, com algumas manchas escuras. Duas linhas de glândulas são bem definidas na região dorsolateral. A distância dos olhos até a ponta do focinho é uma vez e meia o diâmetro do olho. O ventre, o tórax e a região gular são brancos, mas a parte posterior do ventre e o interior das coxas são amarelados. A íris é de cor bronze.

Espécie semelhante: Adenomera andreae se diferencia por possuir focinho menor (aproximadamente uma vez o diâmetro do olho), linhas dorsolaterais finas de glândulas pouco perceptíveis a olho nu, região peitoral e inferior dos braços mais escura que o abdômen, parte posterior do ventre e o interior das coxas acinzentadas.

História natural: Terrestres, diurnos e noturnos. São encontrados principalmente em áreas abertas e margens de florestas. Alimentam-se principalmente de besouros, diplópodos e formigas. Reproduzemse durante todo o ano, mas com um pico na estação chuvosa (dezembro-maio). Os machos vocalizam sobre o solo, escondidos embaixo de folhas e galhos caídos. Os machos escavam pequenos buracos no solo, onde a fêmea deposita cerca de 15 ovos em um ninho de espuma. Os girinos desenvolvem-se até a metamorfose dentro do ninho, vivendo exclusivamente de suas reservas nutritivas.



---

Feedback or comments about this page.

Citation: AmphibiaWeb. 2022. <https://amphibiaweb.org> University of California, Berkeley, CA, USA. Accessed 9 Aug 2022.

AmphibiaWeb's policy on data use.