Rhinella marina
South American Cane Toad, Cane Toad, Marine Toad, Giant Toad
family: Bufonidae

&copy 2011 Esteban Alzate (1 of 151)

Country distribution from AmphibiaWeb's database: Anguilla, Bolivia, Brazil, Cayman Islands, Colombia, Costa Rica, Ecuador, French Guiana, Guyana, Peru, Suriname, Trinidad and Tobago, United States, Venezuela. Introduced: Antigua and Barbuda, Aruba, Australia, Barbados, Dominican Republic, Fiji, Grenada, Guadeloupe, Guam, Haiti, Jamaica, Japan, Martinique, Mauritius, Montserrat, Northern Mariana Islands, Papua New Guinea, Philippines, Puerto Rico, Saint Kitts and Nevis, Saint Lucia, Saint Vincent and the Grenadines, Solomon Islands, Taiwan, Virgin Islands, U.S..

U.S. state distribution from AmphibiaWeb's database: Florida, Hawaii, Texas

IUCN (Red List) status: Least Concern (LC).
For Red List information on this species, see the IUCN species account.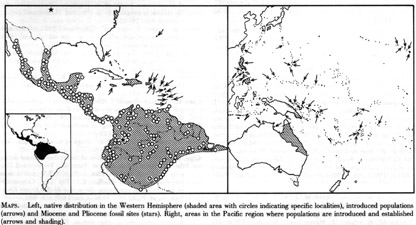 From Easteal 1986. Catalogue of American Amphibians and Reptiles.
---
Feedback or comments about this page.
Citation: AmphibiaWeb. 2020. <http://amphibiaweb.org> University of California, Berkeley, CA, USA. Accessed 23 Sep 2020.
AmphibiaWeb's policy on data use.