Rana septentrionalis
Mink Frog
Subgenus: Aquarana

family: Ranidae
Taxonomic Notes: This species was placed in the genus Lithobates by Frost et al. (2006). However, Yuan et al. (2016, Systematic Biology, doi: 10.1093/sysbio/syw055) showed that this action created problems of paraphyly in other genera. Yuan et al. (2016) recognized subgenera within Rana for the major traditional species groups, with Lithobates used as the subgenus for the Rana palmipes group. AmphibiaWeb recommends the optional use of these subgenera to refer to these major species groups, with names written as Rana (Aquarana) catesbeiana, for example.

&copy 2007 Louis-M. Landry (1 of 4)

Country distribution from AmphibiaWeb's database: Canada, United States

U.S. state distribution from AmphibiaWeb's database: Maine, Michigan, Minnesota, New Hampshire, New York, Ohio, Vermont, Wisconsin

Canadian province distribution from AmphibiaWeb's database: Manitoba, New Brunswick, Newfoundland and Labrador, Ontario, Quebec

IUCN (Red List) status: Least Concern (LC).
For Red List information on this species, see the IUCN species account.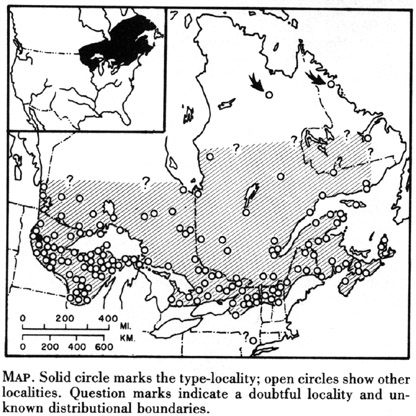 From Hedeen 1977. Catalogue of American Amphibians and Reptiles.
---
From Laura Blackburn, Priya Nanjappa, and Michael J. Lannoo (2001) US Amphibian Dist. Maps (http://home.bsu.edu/home/00mjlannoo/)
---
Feedback or comments about this page.
Citation: AmphibiaWeb. 2020. <http://amphibiaweb.org> University of California, Berkeley, CA, USA. Accessed 5 Jul 2020.
AmphibiaWeb's policy on data use.