Notophthalmus viridescens
Eastern Newt, Broken-Striped Newt, Central Newt, Peninsula Newt, Red Spotted Newt
Subgenus: Notophthalmus

family: Salamandridae
subfamily: Pleurodelinae

&copy 2011 Michael Graziano (1 of 103)

Country distribution from AmphibiaWeb's database: Canada, United States

U.S. state distribution from AmphibiaWeb's database: Alabama, Arkansas, Connecticut, Delaware, Florida, Georgia, Iowa, Illinois, Indiana, Kansas, Kentucky, Louisiana, Massachusetts, Maryland, Maine, Michigan, Minnesota, Missouri, Mississippi, North Carolina, New Hampshire, New Jersey, New York, Ohio, Oklahoma, Pennsylvania, Rhode Island, South Carolina, Tennessee, Texas, Virginia, Vermont, Wisconsin, West Virginia

Canadian province distribution from AmphibiaWeb's database: New Brunswick, Nova Scotia, Ontario, Prince Edward Island, Quebec

IUCN (Red List) status: Least Concern (LC).
For Red List information on this species, see the IUCN species account.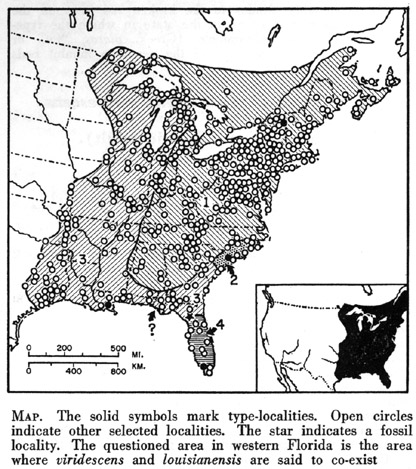 From Mecham 1967. Catalogue of American Amphibians and Reptiles.
---
From Laura Blackburn, Priya Nanjappa, and Michael J. Lannoo (2001) US Amphibian Dist. Maps (http://home.bsu.edu/home/00mjlannoo/)
---
Feedback or comments about this page.
Citation: AmphibiaWeb. 2019. <http://amphibiaweb.org> University of California, Berkeley, CA, USA. Accessed 23 Jul 2019.
AmphibiaWeb's policy on data use.