Hyla gratiosa
Barking Treefrog
Subgenus: Dryophytes

family: Hylidae
subfamily: Hylinae
Taxonomic Notes: Duellman et al. (Zootaxa 2016) treated two major clades as genera; AmphibiaWeb treats these two clades as subgenera(Hyla in the Old World; Dryophytes in the New World and East Asia), thus stabilizing traditional taxonomy.

&copy 2008 Frank Teigler (1 of 39)

Country distribution from AmphibiaWeb's database: United States

U.S. state distribution from AmphibiaWeb's database: Alabama, Delaware, Florida, Georgia, Kentucky, Louisiana, Maryland, Mississippi, North Carolina, New Jersey, South Carolina, Tennessee, Virginia

IUCN (Red List) status: Least Concern (LC).
For Red List information on this species, see the IUCN species account.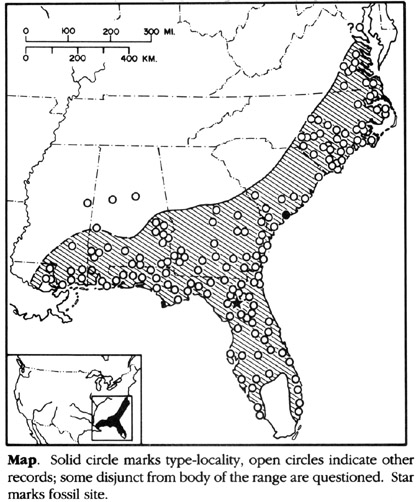 From Caldwell 1982. Catalogue of American Amphibians and Reptiles.
---
From Laura Blackburn, Priya Nanjappa, and Michael J. Lannoo (2001) US Amphibian Dist. Maps (http://home.bsu.edu/home/00mjlannoo/)
---
Feedback or comments about this page.
Citation: AmphibiaWeb. 2020. <http://amphibiaweb.org> University of California, Berkeley, CA, USA. Accessed 25 Nov 2020.
AmphibiaWeb's policy on data use.