Gastrophryne carolinensis
Eastern Narrow-mouthed Toad, Eastern Narrowmouth Toad
family: Microhylidae
subfamily: Gastrophryninae

John White
&copy 2003 John White (1 of 41)

Country distribution from AmphibiaWeb's database: United States. Introduced: Bahamas, Cayman Islands, Puerto Rico.

U.S. state distribution from AmphibiaWeb's database: Alabama, Arkansas, Delaware, Florida, Georgia, Illinois, Kansas, Kentucky, Louisiana, Maryland, Missouri, Mississippi, North Carolina, Oklahoma, South Carolina, Tennessee, Texas, Virginia

IUCN (Red List) status: Least Concern (LC).
For Red List information on this species, see the IUCN species account.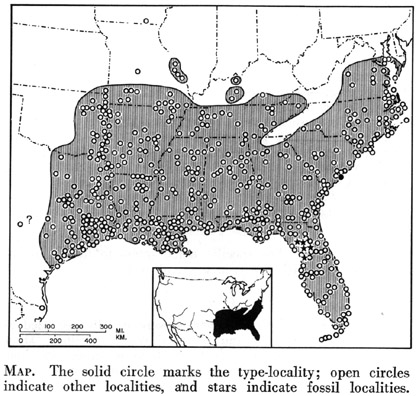 From Nelson 1972. Catalogue of American Amphibians and Reptiles.
---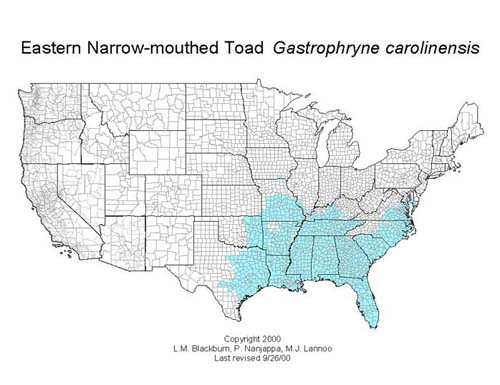 From Laura Blackburn, Priya Nanjappa, and Michael J. Lannoo (2001) US Amphibian Dist. Maps (http://home.bsu.edu/home/00mjlannoo/)
---
Feedback or comments about this page.
Citation: AmphibiaWeb. 2019. <http://amphibiaweb.org> University of California, Berkeley, CA, USA. Accessed 18 Aug 2019.
AmphibiaWeb's policy on data use.