Aneides flavipunctatus
Black Salamander, Speckled Black Salamander
Subgenus: Aneides

family: Plethodontidae
subfamily: Plethodontinae
Taxonomic Notes: Rissler and Apodaca (2007, Syst Biol 56: 924-942) present arguments that the species as recognized by AmphibiaWeb should be broken into four species, with A. iecanus and A. niger recognized as full species, and a third that lacks a name in addition to A. flavipunctatus. The complex has been studied in depth by Reilly and colleagues (most recently Reilly and Wake, 2015, J Biogeog 42: 280-291), who find considerably more complexity than previously noted. No formal taxonomic changes have been made by primary researchers, but nonetheless taxonomic changes have been made by various compilers and book writers. The complex remains under study and taxonomic conclusions will be forthcoming.
---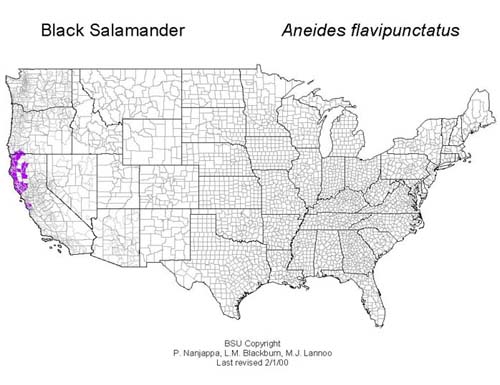 From Laura Blackburn, Priya Nanjappa, and Michael J. Lannoo (2001) US Amphibian Dist. Maps (http://home.bsu.edu/home/00mjlannoo/)
---
Feedback or comments about this page.
Citation: AmphibiaWeb. 2019. <http://amphibiaweb.org> University of California, Berkeley, CA, USA. Accessed 24 Jun 2019.
AmphibiaWeb's policy on data use.