Aneides flavipunctatus
Black Salamander, Speckled Black Salamander
Subgenus: Aneides

family: Plethodontidae
subfamily: Plethodontinae
Taxonomic Notes: Reilly & Wake (2019, PeerJ DOI 10.7717/peerj.7370), building on earlier papers by Rissler & Apodaca (2007, Syst Biol 56: 924-942) and Reilly & Wake (2015, J Biogeog 42: 280-291), revised the taxonomy of a species complex and recognized four species: A. flavipunctatus (which has the greatest geographic range and is the most variable in morphology and molecular markers, A. iecanus, A. klamathensis and A. niger.
---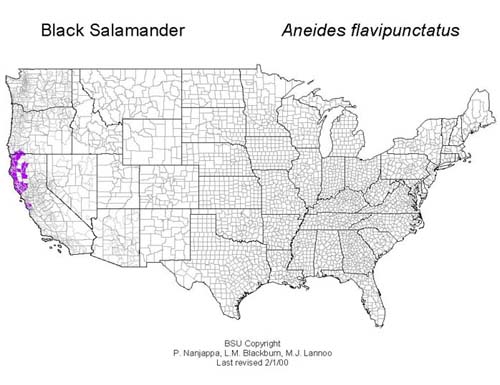 From Laura Blackburn, Priya Nanjappa, and Michael J. Lannoo (2001) US Amphibian Dist. Maps (http://home.bsu.edu/home/00mjlannoo/)
---
Feedback or comments about this page.
Citation: AmphibiaWeb. 2020. <http://amphibiaweb.org> University of California, Berkeley, CA, USA. Accessed 8 Jul 2020.
AmphibiaWeb's policy on data use.