Uperoleia lithomoda
Stonemason's Toadlet
family: Myobatrachidae
subfamily: Myobatrachinae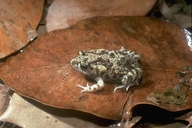 &copy 2002 Jean-Marc Hero (1 of 4)
| | |
| --- | --- |
| | hear call (743.7K MP3 file) |
| | hear call (5463.7K WAV file) |
Distribution and Habitat


Country distribution from AmphibiaWeb's database: Australia, Papua New Guinea

Northern Australia. From the northern section of the Kimberley region in Western Australia, across northern region of Northern Territory and into north-eastern Queensland. The extent of occurrence of the species is approximately 658100 km2

Life History, Abundance, Activity, and Special Behaviors
Found in woodland and grassy habitat, including areas that have been cleared, which are subject to flooding. Breeds during the wet season. Males call from the base of grass tussocks or exposed positions on coarse gravelly soil near temporary water, rarely further than 10m away from water. Breeding biology is little known.

Trends and Threats
No known declines and extent of occurrence > 20,000km2.

Threats
None known.

Conservation Measures
None in place.

References


Barker, J., Grigg, G. C., and Tyler, M. J. (1995). A Field Guide to Australian Frogs. Surrey Beatty and Sons, New South Wales.

Cogger, H.G. (1992). Reptiles and Amphibians of Australia. Reed Books, New South Wales.
---

Written by J-M Hero et al. (m.hero AT mailbox.gu.edu.au), Griffith University
First submitted 2002-04-05
Edited by Ambika Sopory (2008-09-18)

Species Account Citation: AmphibiaWeb 2008 Uperoleia lithomoda: Stonemason's Toadlet <http://amphibiaweb.org/species/3613> University of California, Berkeley, CA, USA. Accessed Jan 20, 2021.
---

Feedback or comments about this page.

Citation: AmphibiaWeb. 2021. <http://amphibiaweb.org> University of California, Berkeley, CA, USA. Accessed 20 Jan 2021.

AmphibiaWeb's policy on data use.