Ischnocnema penaxavantinho

family: Brachycephalidae

Species Description: Giaretta AA, Toffoli D, Oliveira LE 2007 A new species of Ischnocnema (Anura: Eleutherodactylinae) from open areas of the Cerrado Biome in southeastern Brazil. Zootaxa 1666:43-51.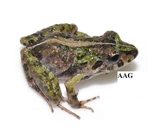 &copy 2011 Ariovaldo Giaretta (1 of 1)
| | |
| --- | --- |
| | hear call (60.9K WAV file) |
Range Description
Ischnocnema penaxavantinho is known from the type locality: Estação Ecológica do Panga (Panga), (19 11' S; 48 24' W, ca. 800 masl), municipality of Uberlândia, and Perdizes (Estação de Pesquisa e Desenvolvimento Ambiental Galheiro; about 19 12' S, 47 10' W; 700–1000 masl; 2840 ha), another municipality in the Triângulo Mineiro region, both in the state of Minas Gerais, Brazil. Both localities are ca 130 km apart (Giaretta et al., 2007).
Habitat and Ecology
The vegetation at the type locality (Panga) includes several Cerrado physiognomies, including "Veredas" (a vegetation dominated by grass-like plants, with dispersed bushes and Mauritia flexuosa palms) and a riverine forest running along the Panga River (2 m wide). Human altered areas are covered by the exotic grass Brachiaria sp.. The local weather presents a hot and wet summer (Sep.–Mar.), and a cold and dry winter (Apr.–Aug), when frosts may occur. Males were heard calling on the ground or perched (up to 60 cm height) amidst dense tufts of natural grass-like herbs in Veredas or on Brachiaria sp. Up to 200 m from permanently wet soil. Rarely, when fires cleared open areas from
grasses, males were heard also from within forests or forest borders. Calling activity was observed between October and March, being most intense in the afternoon and first hours of the night (Giaretta et al., 2007).
Population
No population status information is currently available for this species.
Population Trend
unknown
Major Threats
Natural wildfires may comprise a potential threat to this species.
Conservation Actions
The species is known to occur within the realm of two research stations.
Red List Status
Data Deficient (DD)
Rationale
Listed as Data Deficient since it has only recently been described, and there is still very little known about its extent of occurrence, area of occupancy, status and ecological requirements.
Taxonomic Notes
Ischnocnema penaxavantinho is diagnosed on the basis of adult morphology, advertisement call, and ecology (Giaretta et al., 2007).
Citation
Ariovaldo A. Giaretta 2008. Ischnocnema penaxavantinho. The IUCN Red List of Threatened Species 2008: e.T136108A4238205. http://dx.doi.org/10.2305/IUCN.UK.2008.RLTS.T136108A4238205.en .Downloaded on 23 February 2019
IUCN Terms of Use