Bokermannohyla nanuzae

family: Hylidae
subfamily: Hylinae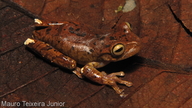 &copy 2018 Mauro Teixeira Jr (1 of 3)
| | |
| --- | --- |
| | hear call (96.5K WAV file) |
| | hear call (96.2K WAV file) |
Range Description
This species is known from the Serra do Cipó, near Jaboticatubas, and from Serra do Caraça, both in the state of Minas Gerais, Brazil, above 800m asl. It might occur more widely, but this requires confirmation.
Habitat and Ecology
It occurs on vegetation near streams in gallery forest, and presumably breeds in streams. It does not adapt well to anthropogenic disturbance.
Population
It is a common species.
Population Trend
stable
Major Threats
Mining, fires, and infrastructure development for human settlement are major threats to the species' habitat. The disturbance of the habitat by tourists is also a problem.
Conservation Actions
Its range includes Parque Nacional da Serra do Cipó, Área de Preservação Ambiental Sul and Reserva Particular do
Patrimônio Natural Santuário do Caraça.
Red List Status
Least Concern (LC)
Rationale
Listed as Least Concern because, although its Extent of Occurrence is less than 20,000 km2, it is common and does not appear to be in decline.
Taxonomic Notes
This species was previously within the genus Hyla but has recently been moved to the genus Bokermannohyla (Faivovich, et al., 2005).
Citation
Luciana Barreto Nascimento, Miguel Trefaut Rodrigues, Débora Silvano 2010. Bokermannohyla nanuzae. The IUCN Red List of Threatened Species 2010: e.T55576A11320768. http://dx.doi.org/10.2305/IUCN.UK.2010-2.RLTS.T55576A11320768.en .Downloaded on 23 February 2019
IUCN Terms of Use