Bokermannohyla ibitiguara

family: Hylidae
subfamily: Hylinae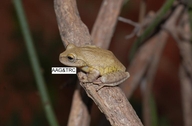 &copy 2009 Ariovaldo Giaretta (1 of 2)
| | |
| --- | --- |
| | hear call (91.0K WAV file) |
| | hear call (130.4K WAV file) |
Range Description
This species is known only from the type locality, Alpinópolis, and from the immediate vicinity, in the Serra da Canastra, Minas Gerais State, Brazil. This is a poorly sampled region for amphibians, so it might occur more widely.
Habitat and Ecology
It occurs in rocky habitats in savannah, on stones or trees near small waterfalls of permanent streams. There is no information regarding its breeding habits, but it is likely to breed by larval development in steams.
Population
There is no information regarding its population status.
Population Trend
unknown
Major Threats
Potential threats to this species include habitat degradation due to agricultural development and infrastructure development for human settlement and tourism, and also fires.
Conservation Actions
Its range includes Parque Nacional da Serra da Canastra.
Red List Status
Data Deficient (DD)
Rationale
Listed as Data Deficient in view of continuing uncertainties as to its extent of occurrence, status and ecological requirements.
Taxonomic Notes
This species was previously within the genus Hyla but has recently been moved to the genus Bokermannohyla (Faivovich et al. 2005).
Citation
Ulisses Caramaschi, Paula Cabral Eterovick 2004. Bokermannohyla ibitiguara. The IUCN Red List of Threatened Species 2004: e.T55509A11320909. http://dx.doi.org/10.2305/IUCN.UK.2004.RLTS.T55509A11320909.en .Downloaded on 23 February 2019
IUCN Terms of Use