Boophis occidentalis
Western white lipped treefrog
Subgenus: Boophis

family: Mantellidae
subfamily: Boophinae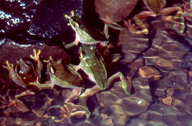 &copy 2000 Franco Andreone (1 of 5)


Conservation Status (definitions)
IUCN (Red List) Status
Near Threatened (NT)
See IUCN account.
CITES
No CITES Listing

Other International Status
None
National Status
None
Regional Status
None
Can you confirm these amateur observations of Boophis occidentalis?
Description
F 44 mm. Tibiotarsal articulation reaches the eye. Hand with webbing, foot webbing 1(0), 2i(0.5), 2e(0), 3i(0.5), 3e(0), 4i/e(0.5-0.75), 5(0). Dorsal skin smooth in females, probably with keratinized spines in males. Dorsally green with two incomplete yellow dorsolateral stripes. Iris turquoise in its outer area. Webbing purple red.

Distribution and Habitat


Country distribution from AmphibiaWeb's database: Madagascar

Isalo, Tsingy de Bemaraha, near Zazafotsy. It occurs between sea level and 800m asl. This species lives in dry and transitional forest, and has been found in severely degraded habitats with planted trees along streams in a village, although it cannot survive in completely open habitats (Glaw et al. 2008).

Life History, Abundance, Activity, and Special Behaviors
Habits: In dry deciduous forests. Reproduction largely unknown, but likely to be similar to the previous species.

Calls: Unknown.

It breeds actively in streams (Glaw et al. 2008).

Trends and Threats
Near Threatened: species depends on streams in a dry environment, and so its area of occupancy is probably not much greater than 2,000 km, and the extent and quality of its habitat is declining, thus making the species close to qualifying for vulnerable. It occurs in Parc National de Isalo and is likely to occur in the Réserve Spéciale de Kalambatritra, although it has not yet been found there. It also occurs in one planned protected area (Sahamalaza) (Glaw et al. 2008).

Relation to Humans
There are no special interactions between local human communities and B. occidentalis. It is not an object of hunt for alimentation. It is likely that a certain (although - and hopefully - limited) collecting activity is made (or will be soon or later be done) for the pet trade. The malagasy people know this (and other) species of frogs with the simple name "sahona".

Possible reasons for amphibian decline
General habitat alteration and loss
Habitat modification from deforestation, or logging related activities
Intensified agriculture or grazing
Drainage of habitat
Subtle changes to necessary specialized habitat
Habitat fragmentation
Intentional mortality (over-harvesting, pet trade or collecting)

Comments
Taken with permission from Glaw and Vences (2007).
References


Glaw, F. and Vences, M. (1994). Amphibians and Reptiles of Madagascar. M. Vences and F. Glaw Verlags GbR., Köln.

Glaw, F., Vences, M., and Cadle, J. (2008). Boophis occidentalis. In: IUCN 2008. 2008 IUCN Red List of Threatened Species. www.iucnredlist.org. Downloaded on 08 April 2009.

Glaw, F., and Vences, M. (2007). Field Guide to the Amphibians and Reptiles of Madagascar. Third Edition. Vences and Glaw Verlag, Köln.
---

Written by Franco Andreone and Miguel Vences (m.vences AT tu-bs.de), Museo Regionale di Scienze Naturali di Torino (Italy), and Institute of Biodiversity and Ecosystem Dynamics, Amsterdam
First submitted 2002-11-07
Edited by Henry Zhu (2009-05-05)
---

Feedback or comments about this page.

Citation: AmphibiaWeb: Information on amphibian biology and conservation. [web application]. 2015. Berkeley, California: AmphibiaWeb. Available: http://amphibiaweb.org/. (Accessed: May 22, 2015).

AmphibiaWeb's policy on data use.