Boophis xerophilus

Subgenus: Sahona

family: Mantellidae
subfamily: Boophinae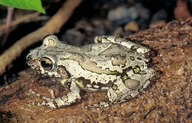 &copy 2008 Miguel Vences and Frank Glaw (1 of 2)
| | |
| --- | --- |
| | hear call (96.5K MP3 file) |
Description
M 35-39 mm. Tibiotarsal articulation reaches the eye. Hand with a trace of webbing, foot webbing 1(0-1), 2i(1), 2e(0-0.5), 3i(1.25-1.75), 3e(0.5-1), 4i(1.75-2), 4e(1.5-1.75), 5(0.5-0.75). Males with nuptial pads and a moderately distensible single subgular vocal sac. Dorsal skin smooth. Dorsally light brown with large dark brown symmetrical markings. Ventrally white, throat in breeding males blackish.

Similar species: In western Madagascar, the only similar species is B. doulioti which lacks the large dark dorsal markings typical for B. xerophilus.

Distribution and Habitat


Country distribution from AmphibiaWeb's database: Madagascar

Kirindy (central-western Madagascar), Berenty (southeastern Madagascar). May occur in between those areas. Reported from low elevations, below 100m asl. Only known from areas of dry deciduous forest, not known from open savanna (Glaw and Vences 2008).

Life History, Abundance, Activity, and Special Behaviors
Males call at night, sitting on the ground near temporary pools, after heavy rains.

Calls: Consisting of 1-4 short melodious notes.

It mates in temporary pools (Glaw and Vences 2008).

Trends and Threats
Occurs in at least one protected area, the Réserve Naturelle Privée de Berenty. (Glaw and Vences 2008).

Possible reasons for amphibian decline
General habitat alteration and loss
Habitat modification from deforestation, or logging related activities
Intensified agriculture or grazing
Habitat fragmentation

Comments
Taken with permission from Glaw and Vences (2007).
References

Glaw, F. and Vences, M. (1994). Amphibians and Reptiles of Madagascar. M. Vences and F. Glaw Verlags GbR., Köln.
Glaw, F. and Vences, M. (2008). Boophis xerophilus. In: IUCN 2008. 2008 IUCN Red List of Threatened Species. www.iucnredlist.org. Downloaded on 07 April 2009.
Glaw, F., and Vences, M. (2007). Field Guide to the Amphibians and Reptiles of Madagascar. Third Edition. Vences and Glaw Verlag, Köln.
---

Written by Miguel Vences and Frank Glaw (m.vences AT tu-bs.de), Assistant Professor and Curator of Vertebrates at the Institute for Biodiversity and Ecosystem Dynamics in the Zoological Museum at the University of Amsterdam
First submitted 2008-12-04
Edited by Henry Zhu (2009-05-05)
---

Feedback or comments about this page.

Citation: AmphibiaWeb: Information on amphibian biology and conservation. [web application]. 2016. Berkeley, California: AmphibiaWeb. Available: http://amphibiaweb.org/. (Accessed: Sep 30, 2016).

AmphibiaWeb's policy on data use.