Gephyromantis horridus

Subgenus: Laurentomantis

family: Mantellidae
subfamily: Mantellinae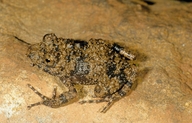 &copy 2008 Miguel Vences and Frank Glaw (1 of 2)


Conservation Status (definitions)
IUCN (Red List) Status
Endangered (EN)
See IUCN account.
CITES
No CITES Listing

Other International Status
None
National Status
None
Regional Status
None
Can you confirm these amateur observations of Gephyromantis horridus?
Description
The largest Laurentomantis, M 26-28 mm, F 34 mm. Dorsum very granular, brown with black markings. Ventrally brown with grey marbling. Males with tibial gland.

Similar species: G. ventrimaculatus differs by its larger tympanum (1/2 of eye diameter). Gephyromantis malagasius is smaller and has longer hindlimbs.

Distribution and Habitat


Country distribution from AmphibiaWeb's database: Madagascar

Tsaratanana (Manarikoba forest, Antsahamanintsy), Montagne d' Ambre, Nosy Be.

Observed at elevations between 300-1400 m (Andreone and Glaw 2008).

Life History, Abundance, Activity, and Special Behaviors
Habits: Males call at night in rainforest from the vegetation 50-150 cm above the ground.

Calls: Unharmonious notes, each consisting of 16-33 very widely spaced pulses. Males call at night in rainforest from the vegetation 50-150 cm above the ground.

Trends and Threats
This species is listed as endangered because its Extent of Occurrence is less than 5,000 km2, its distribution is severely fragmented, and there is continuing decline in the extent and quality of its habitat in northern Madagascar. It has been found in at least two protected areas in Madagascar: the Réserve Naturelle Intégrale du Tsaratanana and Parc National de Montagne d'Ambre (Andreone and Glaw 2008).

Possible reasons for amphibian decline
General habitat alteration and loss
Habitat modification from deforestation, or logging related activities
Intensified agriculture or grazing

Comments

Taken with permission from Glaw and Vences (2007).
References


Andreone, F. and Glaw, F. (2008). Gephyromantis horridus. In: IUCN 2008. 2008 IUCN Red List of Threatened Species. www.iucnredlist.org. Downloaded on 18 March 2009.

Glaw, F., and Vences, M. (2007). Field Guide to the Amphibians and Reptiles of Madagascar. Third Edition. Vences and Glaw Verlag, Köln.
---

Written by Miguel Vences and Frank Glaw (m.vences AT tu-bs.de), Assistant Professor and Curator of Vertebrates at the Institute for Biodiversity and Ecosystem Dynamics in the Zoological Museum at the University of Amsterdam
First submitted 2000-11-27
Edited by Catherine Aguilar (2009-04-07)
---

Feedback or comments about this page.

Citation: AmphibiaWeb: Information on amphibian biology and conservation. [web application]. 2015. Berkeley, California: AmphibiaWeb. Available: http://amphibiaweb.org/. (Accessed: Jul 2, 2015).

AmphibiaWeb's policy on data use.